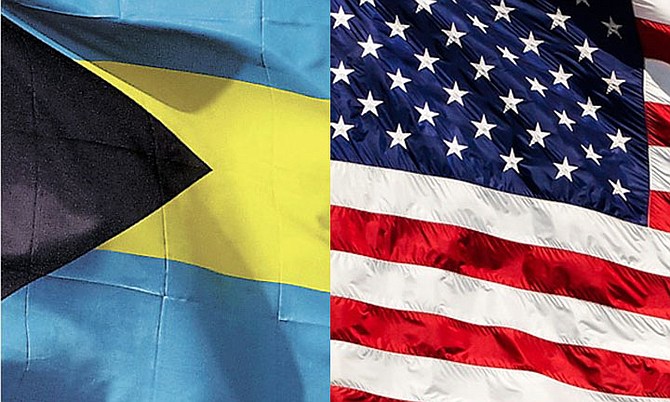 By Khrisna Virgil
Deputy Chief Reporter
kvirgil@tribunemedia.net
THE United States Department of State has assessed New Providence and classified it as being a "critical" threat location for crime either directed at or affecting official US government interests, citing among other things that areas of Nassau referred to as "Over-the-Hill" should be avoided.
According to the Bureau of Diplomatic Security's Bahamas 2017 Crime and Safety Report, despite 2016 experiencing a 26 per cent drop in serious crimes and 24 per cent fewer murders than 2015's record high, New Providence has witnessed violent crimes in locations more commonly frequented by US tourists.
In some instances, these incidents resulted in fatalities, the report said. There were 111 murders in 2016 and 146 murders in 2015.
The report noted criminality and violent crime has increased in Grand Bahama, notably crimes involving the use of machetes.
"Many criminals carry firearms, machetes, or knives, and these weapons are commonly brandished," the report said.
"Gangs are present. There has been targeted gang-related violence, including a drive-by shooting that resulted in one death and two injuries next to Embassy-owned residential properties.
"Home invasions, theft, and robbery are not confined to a specific part of the island. The upsurge in criminal activity has led to incidents that could place innocent bystanders at risk. The US Embassy has received reports of assaults, including sexual assaults, at residences, hotel rooms, casinos, outside hotels, and on cruise ships. In some sexual assault incidents, the victim reportedly had been drugged. The embassy issued several security messages for US citizens in 2016," the report also said.
Other areas of concern include The Sand Trap and inner-city communities referred to as "Over-the-Hill".
"In November 2016, the US Embassy placed The Sand Trap venue off-limits to Chief of Mission personnel following a gang-related murder. The Sand Trap is on the north side of West Bay Street at the intersection of West Bay Street and Saint Alban's Drive.
"Areas of Nassau referred to as 'Over-the-Hill' by locals should be avoided after sunset unless you are intimately familiar with the areas. This is generally south of the downtown Nassau area, south of Shirley Street. These areas are not clearly defined but encompass many lower income areas on New Providence. Visitors should avoid these areas, especially at night."
Road safety and road conditions are also noted in the report. "Reckless" driving practices and motorists disobeying road rules are mentioned as areas of concern.
"Vehicular traffic comes from the opposite to what one would expect in the US, tourists have been struck by cars after failing to check properly for oncoming traffic.
"Traffic circles are a common feature, and traffic in the circles has the right-of-way. Traffic congestion in Nassau is prevalent, and drivers occasionally display antagonistic tendencies and sometimes drive recklessly, passing on the right into oncoming traffic. Many motorists disobey stop signs, speed limits, and traffic signals.
"Police enforcement of traffic laws has increased in 2016 but is still considered minimal, and visitors should exercise extreme caution. While it is against the law, drinking and driving is common. The legal ban is infrequently enforced, resulting in numerous traffic accidents and fatalities, including some involving tourists and motor scooters.
"Traffic accidents pose a safety hazard in some parts of the Bahamas, primarily due to intolerant drivers speeding and driving recklessly on two-way, two-lane roads not designed for high-speed travel and, in some cases, in need of maintenance."
Police response
Generally, the report said the Royal Bahamas Police Force is receptive to reports of crime and takes threats of crimes against tourists seriously.
"However, the police response can be reduced by a lack of resources or by the physical constraints imposed by geography, infrastructure, and traffic.
"Police have limited emergency vehicles, and streets and houses are generally unmarked, inhibiting responders from locating affected residences. To ensure quick response to a residence, victims may have to go to the local police station and provide transportation to the site."
The report also listed Nassau as being a "low threat" location for terrorist activity and the same classification was given for political, economic, religious and ethnic violence directed at or affecting official US government interests.
The report was released in March.