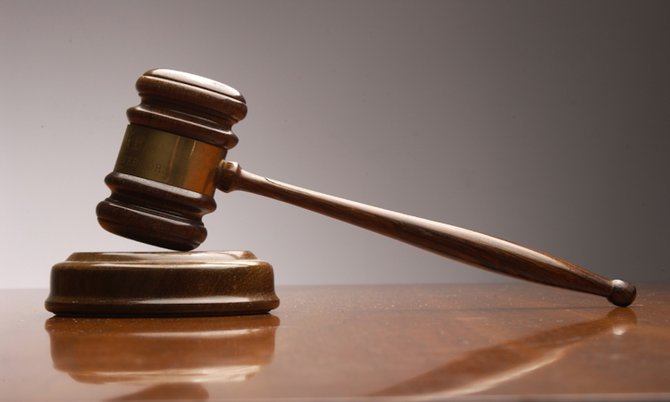 By LAMECH JOHNSON
Tribune Staff Reporter
ljohnson@tribunemedia.net
A MAN, who was convicted by a Supreme Court jury of the decapitation of another man, was sentenced to 23 years in prison yesterday.
Jason Glinton, 37, who was accused of the October 2012 murder of Fortis Moncur in Cat Island, was retried before Senior Justice Bernard Turner in March.
At the original case's climax before Justice Carolita Bethel, the judge was compelled to declare a mistrial when she was informed of an alleged public confrontation between Glinton and a juror.
Though Glinton was originally charged with murder, the jury in his retrial convicted him of the lesser charge of manslaughter by a count of 8-4 on March 10.
In considering the Court of Appeal case of Larry Raymond Jones, Senior Justice Turner determined that 23 years was a sentence sufficient to send a strong message to society that such acts will not be tolerated.
Glinton's sentence was reduced by six months spent on remand and his sentence was ordered to run from the date of conviction, March 10.
Senior Justice Turner advised him of his right to appeal both conviction and sentence.
Prosecutors alleged that Glinton struck Moncur in the head with a baseball bat and then hacked him up with a cutlass following Moncur's accusations of him sleeping with his girlfriend.
The killing allegedly occurred between October 5 and 18, 2012.
When he took the stand during his retrial, Glinton alleged he was oppressed and brutalised while in police custody.
He claimed that police assaulted him and placed a plastic bag over his head to force him to sign a prepared confession statement in which he allegedly described what led to Moncur's death.
He also alleged that he was coached by the detectives during the video recording of his interview in showing police where he had discarded Moncur's remains.
Partially decomposed human remains were found in Devil's Point, but they only found the head after Moncur led them to it, it was revealed in court.
Forensic pathologist Dr Caryn Sands was unable to determine the cause of death as she did not have a complete corpse to examine during her autopsy.
Jacqueline Forbes-Foster prosecuted for the Crown while Murrio Ducille represented Glinton.