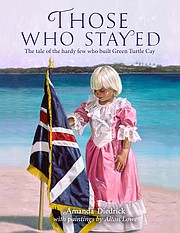 LOGOS Bookstore in the Harbour Bay Shopping Plaza will host Bahamian author Amanda Diedrick for a book signing on Saturday from 11am to 2pm.
Ms Diedrick, a descendant of Hope Town founder Wyannie Malone, as well as rumoured pirate Matthew Lowe, is the author of a newly released coffee table book, "Those Who Stayed – The Tale of the Hardy Few Who Built Green Turtle Cay".
The book tells of the Lucayans, Eleutheran Adventurers, Loyalists and others who, over centuries, sought safety and refuge on Green Turtle and the surrounding cays. The full-colour, 185-page book includes 200 historic images of Green Turtle Cay, two dozen oil paintings by Bahamian artist and historian Alton Lowe and several first-hand accounts of 20th century Abaco life.
"So much of Green Turtle Cay's past isn't immediately obvious," said Ms Diedrick. "You'd never know, for example, that there was once a large Lucayan village near Bita Bay, on the island's east coast. Or that pirates like Calico Jack Rackham, Anne Bonny and Mary Read hid out in Black and White Sounds. Or that in the late 1800s, the cay's population was four times what it is now and New Plymouth's streets were lined with large, elegant homes. There was a dance hall, a theatre and even an orchestra. It's difficult to reconcile all of this with the quaint, low-key town we know today.
"It's amazing how many orders we've received from the United States, Canada and even Europe," said Ms Diedrick. "Some folks have roots in Abaco. Others just love The Bahamas and want to learn more about our history."
For more information about the book or author, visit www.thosewhostayed.com.