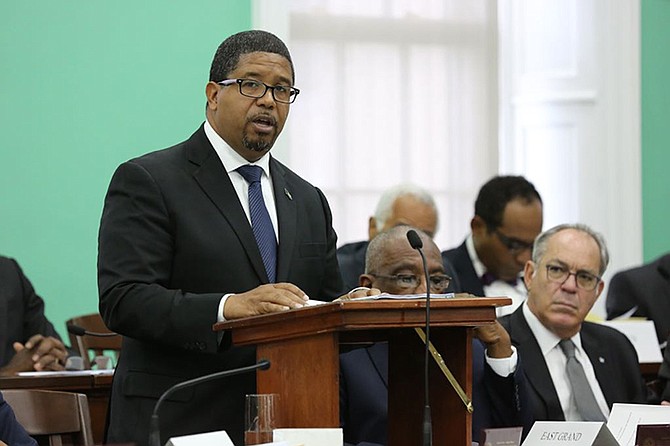 By KHRISNA VIRGIL
Deputy Chief Reporter
kvirgil@tribunemedia.net
DEPUTY Prime Minister K Peter Turnquest said the government will consider turning state owned enterprises or quasi-government corporations over to the private sector as a way of retiring debt because the subsidies provided to them are exorbitant.
The 2017-2018 Budget includes $429m in funding for 25 state owned enterprises (SOEs) — $79m more than last year, Mr Turnquest, who is also the minister of finance, said on Wednesday.
He described the increase as "clearly unsustainable" moving forward.
"We will also seek to reduce these subsidies to an irreducible minimum and apply a very rigid test on future requests for financial subsidies to ensure that more money is available to finance the operations of the government," Mr Turnquest said during his presentation of the 2017-2018 Budget in the House of Assembly Wednesday.
"This budget includes funding in the amount of $429 million for 25 SOEs, quasi-government corporations is $79 million more than last year, primarily because of the introduction of National Health Insurance.
"As this is clearly unsustainable, this administration will develop concrete action plans to transform these enterprises either into viable, efficient and self-sufficient entities."
Some of the more prominent SOEs in the country include Bahamasair Holdings Ltd, Bank of The Bahamas, Bahamas Power and Light Ltd, Water and Sewerage Corporation, the Broadcasting Corporation of The Bahamas (ZNS), Nassau Flight Services and the Hotel Corporation of The Bahamas.
The Minnis administration projects borrowing more than $722m to cover inherited outstanding bills along with the costs associated with running the country moving forward. This covers a period of two fiscal terms.
He said the government came to this conclusion after discovering the current fiscal year is "far bleaker" than anyone could have imagined as the Christie administration left "the cupboard bare."
The deputy prime minister explained that $400m is needed to satisfy expenditure for the past year, while $322,462,707m will be borrowed for the 2017-2018 Budget, amounting to a whopping $722,462,707m.
Describing the new administration's position as "difficult" because it has to grapple with an "historically high burden" of government debt, Mr Turnquest said to continue on this track is "destructive."
Therefore, he said the government will have to run a ship that is fiscally prudent with an agenda of change aimed at eliminating the deficit to return the debt level to more sustainable levels.