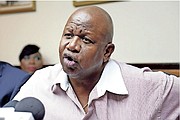 By SANCHESKA DORSETT
Tribune Staff Reporter
sdorsett@tribunemedia.net
BAHAMAS Power and Light began load shedding yesterday morning after a "cable overloaded," resulting in outages in western and central New Providence, according to Bahamas Electrical Workers Union President Paul Maynard.
In an interview with The Tribune, Mr Maynard said an "overloaded cable" around 10am on Tuesday caused the disruption, however he said the issue would be resolved by 4pm.
"This is what happens when you are working with old machines and old equipment," Mr Maynard said.
"The cables became overloaded and we had to load shed in order to fix the line. Once we put the new cable line in, which should happen in about 2 weeks, we should be fine. I can tell you the cables have been laid and tested and when they are in service this should not happen again. Until then, we will repair the line and end the load shedding, which should be done by 4pm today (Tuesday). But like I keep saying, the problem is the machines are old and we need new machines, until we have new machines we will have problems."
On the company's Facebook page, Bahamas Power and Light (BPL) said "a system of disturbance resulted in an outage to a portion of our transmission network".
The following areas were experiencing a disruption in their power supply yesterday: Market Street, north of Palmetto Avenue; East Street, north of Cordeaux Avenue; portions of Wulff; portions of Grants Town; Hospital Lane; Huyler Street; portions of Thompson Blvd between Moss Road and Oakes Field Shopping Centre; portions of Big Pond; Blue Hill Road from Oxford Avenue South to Robinson Road; the eastern portion of Paradise Island, including Atlantis, Coral and Beach Towers, Riu and Comfort Suites.
"BPL technicians are feverishly working to restore power and apologises for any inconvenience caused," the statement said.
Last month, Mr Maynard said BPL is at a "critical stage" and if the company does not get new equipment immediately, the summer will be plagued with power outages.
He told The Tribune that the "engines are shot" and even with the added power from the rental engines, it will not be enough to stop the outages. However, he said, BPL workers are professional and will do all they can to ensure the outages are not long.
Mr Maynard's comments last month came after a night of outages in New Providence. Some customers complained about up to three outages in a 24-hour period.
Earlier this month, with the hot summer months approaching, BPL expressed "confidence" in its readiness to take on the peak period with its higher power generation capability.