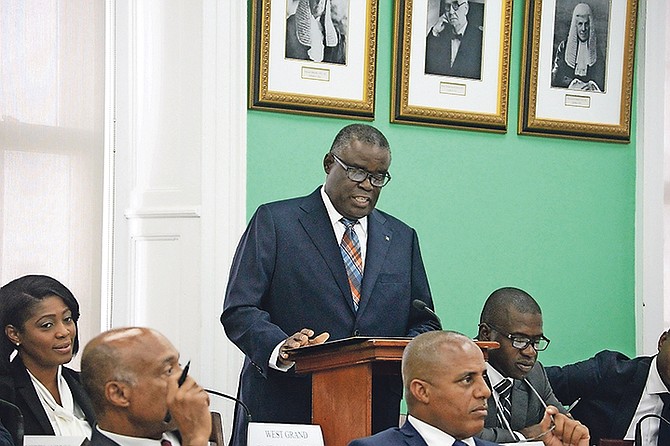 By RASHAD ROLLE
Tribune Staff Reporter
rrolle@tribunemedia.net
THE government's payroll increased by $10m as new employees were hired in the final five months of the former Christie administration, State Minister for Public Service and National Insurance Brensil Rolle said during his contribution to the budget debate in the House of Assembly yesterday.
He said that the Christie administration hired 6,500 new public service workers during the past five years. He suggested that the new administration will take a more rigorous approach to hiring people and that some who were hired under questionable circumstances under the former administration could be terminated.
"Some burdens we cannot carry at the public's expense," he said.
"The public service, in salaries alone, ballooned by $10m between December 2016 and May of this year," he said. "That's $10m — new employment — nothing to do with hurricane repairs."
" Indeed, the public service has ballooned by 6,500 new employees during the watch of the previous administration."
To highlight the questionable nature of some hiring practices, he revealed that under the previous administration a security guard was hired to guard a police station. And such was the loose nature of the process that some people were hired but never received a salary, he said.
Given his experience in the public sector as a former teacher and a former undersecretary in the Ministry of Works, he said the hiring process under the former administration departed from tradition.
"During my time in the public service," he said, "anyone who wanted to be hired by any ministry had to, first of all, justify in their budget that the money was available, go to the Ministry of Finance, get financial clearance, then having those documents in hand, go to the public service and then say 'I've identified person A - here's the position, we've made provisions in our budget, I have financial clearance, go ahead and do you work.' I'm advised that during the last five years that process was thrown outside the window. Indeed, the ministers appear to have been running a parallel service with the Ministry of Public Service where every minister hired whoever they wished at whatever rank they wished, many of whom did not even come to the (Ministry of) Public Service.
"I asked the Ministry of Finance, so how did you pay these people? In many cases those people were not paid, they are still not paid and we are now getting calls to pay them. I look on the public service register, your name is not there. We don't know that you exist. Over the next few weeks, we will have to determine what to do with these matters."
Mr Rolle suggested that some people who fall in this category could face termination.
"I don't want the members opposite to then jump up and scream that there is victimisation (when the government deals with these matters)," he said. "They all know that if you secretly hire an individual, don't pay them or cause them to be paid by an item inside the budget under a new heading, at some point that will catch up to you and I believe that it has. While this government is fully committed to the Bahamian people, we are fully aware that there are some burdens we cannot carry at the public's expense."
Problems
Mr Rolle painted a picture of an administration that failed to fix the problems long known to plague the public service sector.
An assessment by the Commonwealth Secretariat was conducted, he said, and though a myriad of problems were highlighted by the secretariat and a report proposing a way forward was completed, the document never made its way to Cabinet where steps could have been taken to fix such issues, he said.
The diagnostic study highlighted a "dearth of skills of senior and middle managers" in the public sector, "outmoded legislation, antiquated and slothful processes, inadequate use of information and communication technologies, the exploration of lax polices and weak supervisory skills and the lack of citizen engagement."
He highlighted the number of pensioners in the public sector, saying there are too many of them who often receive higher salaries than non-pensioners who are capable of doing the same work.
"We are being saddled by too many pensioners with skills that are already available within the public service," he said. "They are given salaries that are substantially higher than those in the public service. Could you imagine an officer in the public service who makes $45,000 a year for example who sees a rehired pensioner come in with full pension and a salary that is higher than the one he makes? What do you think is going to happen to that public servant? This government will engage in an exercise that will somehow deal with these issues."
Inefficient delivery of public services "must be stopped," Mr Rolle said.
"The Bahamian public deserves better."