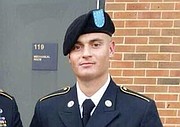 By AVA TURNQUEST
Tribune Chief Reporter
aturnquest@tribunemedia.net
FORMER St Andrews School student and US National Guard member Brandon Russell, who is an alleged neo-Nazi bomb-maker, was granted bond in federal court on Friday.
According to reports, Russell will be staying at an Orlando home as he awaits trial on explosives charges.
Prosecutors had argued that Russell was a flight risk at a hearing on Thursday, however, Federal Judge Thomas McCoun granted the bond stating there was no clear and convincing evidence that the accused represented a threat to any person or the community.
Russell was arrested on explosives and weapons charges in the United States on May 2.
His arrest follows the double homicide of his roommates Andrew Oneschuk, 18, and Jeremy Himmelman, 22, who were shot to death by another roommate, Devon Arthurs, in their apartment on May 19.
Arthurs confessed to killing the men because they disrespected his Muslim faith, and according to the federal complaint, further claimed that Russell previously "threatened to kill people and bomb infrastructure" in neo-Nazi online chat rooms.
Russell reportedly found the bodies of his slain roommates when he returned home from National Guard duty that same day.
Authorities told the court on Thursday that Russell told officers he planned to go see his father, a sheriff's deputy in Palm Beach County, Florida, after making the gruesome discovery.
However, authorities said he instead drove south to the Florida Keys with a friend after the pair purchased two rifles and ammunition.