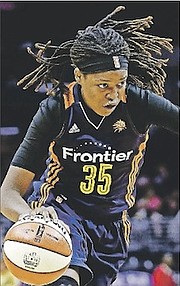 By RENALDO DORSETT
Sports Reporter
rdorsett@tribunemedia.net
JONQUEL Jones posted her fourth double double of the season and led the Connecticut Sun to their first home win of the year.
Jones finished with 20 points and 14 rebounds to lift the shorthanded Sun to a dominant 104-71 over the Atlanta Dream at Mohegan Sun Arena on Saturday night.
The performance lifted her averages to 14.5 points, a league leading 12.8 rebounds and 1.2 blocks in just over 27 minutes per game.
The Sun dressed just nine players against the Dream which won eight consecutive matchups between the teams headed into Saturday night's contest.
One of the nine players available was rookie Feyonda Fitzgerald, who was signed Thursday and had yet to log a minute in the WNBA.
Down two starters, Jones was key in the Sun improving to 3-5 with her effort in the second half. The Dream fell to .500 with a 4-4 record.
The Sun began the season with four consecutive losses but have since gone 3-1.
The Sun went ahead to stay midway through the first quarter and led 44-32 at halftime. The Dream, which committed 21 turnovers, cut the lead to eight in the third quarter but the Sun pulled away from there.
"Everybody just came ready to play. Everybody was locked in," Jones said. "I think the gameplan was great but I think it was more of just us being willing to do whatever we needed to do to get the win."
Jones had eight points and three rebounds at the half but posted a double double in the second half alone with 12 points and 11 rebounds.
The Sun would go on to outscore the Dream 35-19 in the fourth quarter.
"I'm proud we had the attention to detail in the scouting report. I think we did a lot of things we wanted to do against them. Offensively we had five people in double figures and even through the stale moments they stayed together," Sun head coach Curt Miller said. "That was a hungry team in our locker room and I'm proud of them."
The first home win for the Sun came as the team celebrated "Pride Night" at the Mohegan Sun Arena.
The month of June is recognised as Pride Month around the WNBA and serves as a primary platform for the league.
Former NBA star and current NBA Cares Ambassador Jason Collins addressed the crowd at halftime. A 13-year NBA veteran, Collins became the first openly gay athlete to play in any of the four major North American professional sports leagues after he came out in 2013.
A portion of all ticket packages sold will go toward funding OutCT's after-school programmes. The programme provides monthly meeting space where gay, lesbian, bisexual, transgender and questioning youth can gather, socialise, network, have discussions and build peer support.