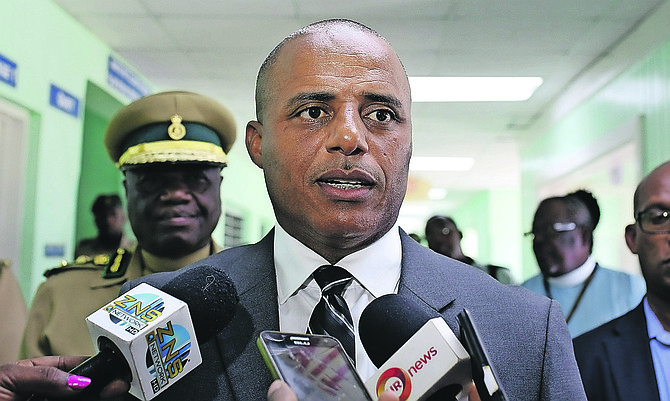 THERE have been 66 murders so far this year, representing a 22 per cent increase compared to the same period in 2016, Minister of National Security Marvin Dames told the House of Assembly last night.
Mr Dames also revealed that the government has disbanded the former administration's controversial National Intelligence Agency (NIA)—which was operating without a legal framework since its inception.
He said whenever the NIA is mentioned again, it will be once laws are in place to govern it, adding that the former structure was an intelligence agency by name only.
"According to the latest figures by the Royal Bahamas Police Force, as of today's date (Monday) there are 66 murders for this year, an increase of 22 per cent compared to the same time last year," Mr Dames said during his contribution to the budget debate.
"The murder count has exceeded 100 for each of the last five years. In fact, in 2015 the country recorded 146 murders, the most in its history. We also noticed an inverse relationship between the murder rate and the detection rate. In other words, as murder rates have been increasing, detection rates have been decreasing."
"While the former administration touted a 26 per cent reduction in crime in 2016, right minded Bahamians have long concluded that the current crime levels are far too high in the first place. Firearms played a significant role in our crime challenges. For example, a new crime study indicates that during 2010 to 2015, 78 per cent of murder victims died as a result of gunshot wounds. The researchers also found that there were 906 shooting incidents during the same period that did not result in death.
"Mr Deputy Speaker, findings also indicate that 2,566 firearms were taken off our streets during that time period. In fact, 160 firearms and 4,154 rounds of ammunition have already been seized thus far for this year."
He said while he commends the efforts of law enforcement, it is not difficult for criminals to find illegal weapons and commit crimes. He added that even though resources are scarce, the country "cannot afford to conduct business as usual."
Mr Dames also referred to a meeting he had last week with Commissioner of Police Ellison Greenslade and his senior team to formulate short-term crime fighting strategies and see how police intend to mitigate violent crime.
"As a result, I was informed that with immediate effect the Royal Bahamas Police Force will introduce a strategy driven patrol initiative where it will utilise existing and new technology to identify crime trends and shifting patterns on a sustained basis to direct its patrols.
"So in other words, what the police have done in just a few days is use existing technology to pinpoint where these crimes are taking place and direct their resources on a sustained level, 24-7.
"We will continue to monitor the success of that short-term goal. Mr Deputy Speaker it means however, that the success or failure of such a strategy will fall within the scope of the Royal Bahamas Police Force. Mr Speaker, it is the people's time and the people are no longer interested in a blame game."
Mr Dames also said the new administration is considering bringing in civilians to do non-police duties in the Royal Bahamas Police Force, in order to give officers more time to focus on law enforcement.
"Mr Deputy Speaker, we are going to see to it that our law enforcement officers are performing law enforcement duties. To this end, we will explore (putting civilians in) those areas of the force that do not require police officers. As most modern forces around the world have been doing for many years."
He said this was introduced by a previous FNM administration in 2000, and the Minnis administration plans to expand this to other law enforcement agencies as well.
NIA
Speaking on the NIA, Mr Dames suggested that the controversial agency did not live up to the mandate set by the former administration.
"Mr Deputy Speaker, since coming into office I have had the opportunity to visit this agency, I must say from the onset that the persons who were assigned to this agency are hardworking officers who meant well," Mr Dames said.
"Mr Deputy Speaker, the difficulty is that this small team of individuals, through no fault of their own, were isolated from the wider law enforcement community. So there is no way they could have been effective, one of the reasons being because there was no one, none of the other agencies in law enforcement understood this unit's purpose—at least that's what I was told.
"This agency was not a National Intelligence Agency at all, but a unit that just carried the name. Mr Deputy Speaker, we could not justify its existence, so as a result on Thursday, June 8, 2017 I met with the officers, thanked them for their efforts and ordered them to return to their respective agencies.
"Their heads were duly notified. Mr Deputy Speaker we must do all things in decency and order. So the next time we hear about a National Intelligence Agency, it will be when we are tabling a bill to legally establish such an agency. In the interim, Mr Deputy Speaker, each agency will be responsible for collecting their own intelligence as they have been doing."
The NIA was intended to be an intelligence gathering hub where law enforcement agencies would combine their efforts to pinpoint and address threats to the country's national security. It was launched by the Progressive Liberal Party shortly after the 2012 general election.
In the past, former Long Island MP Loretta Butler-Turner accused the PLP of "running a spy agency with no clear legal footing and no accountability."
The Christie administration denied that the NIA was spying on civilians.
While in opposition, Free National Movement Leader Dr Hubert Minnis called on the former government to shut down the NIA.
Despite frequent promises, the Christie administration never brought legislation to Parliament to govern the NIA.