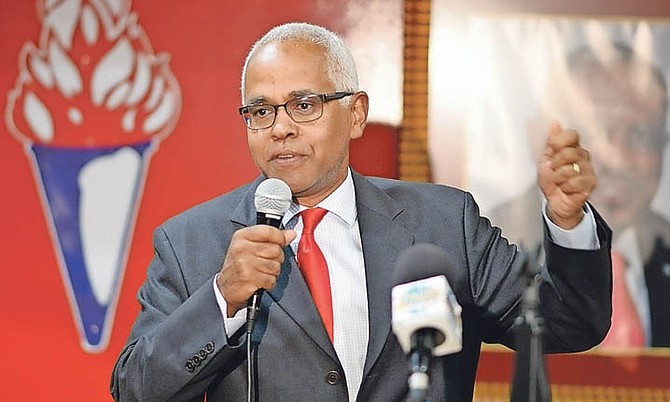 By RICARDO WELLS
Tribune Staff Reporter
rwells@tribunemedia.net
TOURISM Minister Dionisio D'Aguilar yesterday said the government must "get serious" on its plans to regulate the water sports industry, a day after a jet ski operator was arrested and accused of sexually assaulting a Canadian visitor near Paradise Island on Monday.
"We can no longer run from this or step around this particular problem," Mr D'Aguilar told The Tribune when contacted for comment.
The Free Town MP warned that the country was "treading dangerous ground" when it comes to visitor safety, contending that successive governments have avoided implementing proper oversight and regulation to the detriment of the country's overall tourism product.
He went on to call for an immediate "plan of action" to prevent similar cases from occurring; a plan he said he was prepared to organise himself.
Shortly after his interview with The Tribune, a statement released by the Ministry of Tourism and Aviation said "combined efforts by the public and private sectors will be stepped up to ensure that our visitors can enjoy our water sports attractions without fear for their safety or well being."
The statement said the Ministry of Tourism is committed to working with the Ministry of Transport "to take extreme measures to implement stringent regulations for the water sports industry."
Meanwhile, Mr D'Aguilar told The Tribune he would look to meet with both National Security Minister Marvin Dames and Transport and Aviation Minister Frankie Campbell in the next 24 to 48 hours on the matter.
"Everyone in the sector is worried when we see and hear of reports of this nature," the tourism minister said. "While it is still an alleged incident, we have been down this road before and had issues of this nature before.
"We are fooling ourselves if we are not ready to get serious on the issue because we all know what tourism means to this country. It behooves this government, the Ministry of Transport, the Ministry of Tourism and the Ministry of National Security to form a concrete plan once and for all because we are literally, and I mean literally, risking our economy when matters of this nature arise.
"We cannot let a group of individuals that operate on our beaches jeopardise the safety and security of our people and our visitors. That is a stain on image of the Bahamas, one that we cannot risk. We will develop a plan that will involve a lot more oversight. There needs to be more control on who has the privilege and right to service our guests," Mr D'Aguilar told The Tribune.
He said his office intends to work with Paradise Island officials to erect the "necessary and essential" signage around the area to "better inform" visitors on what they may meet there.
He also mentioned plans to increase security and police presence in areas where visitors frequent and occupy.
On Monday, police said a Canadian woman was allegedly sexually assaulted by a Jet Ski operator. The incident took place shortly after 1.30pm on a cay near Cabbage Beach.
Senior Assistant Commissioner of Police Stephen Dean said the victim alleged that a male Jet Ski operator took her on a ride from Cabbage Beach to Athol Island off Paradise Island where he allegedly sexually assaulted her.
Police said the man returned the woman to Cabbage Beach. He was arrested a short time later.
Claims of sexual assault and other offences against tourists have plagued the tourism industry in recent years.
In 2016, The Cove at Atlantis warned its guests against renting Jet Skis on Cabbage Beach, adding that doing so is "at your own risk."
A copy of a letter to guests of The Cove noted: "We are also concerned about your safety and security and are therefore obligated to bring to your attention a matter related to the use of the beach."
The letter told guests that water sports operators are not associated with the hotel and their industry is "minimally regulated."
In March of this year, the US Overseas Security Advisory Council (OSAC) cautioned US citizens travelling to the Bahamas for spring break to "avoid Jet Ski operators" because these individuals "continue to commit sexual assaults and other crimes against tourists, including US citizens."
The OSAC also cautioned US Embassy personnel not to use Jet Ski rentals on New Providence and Paradise Island, including Cabbage Beach and Cable Beach. The department also "strongly" recommended they "avoid patronising Jet Ski rental operations."
Last year, a 29-year-old Jet Ski operator was remanded to prison without bail after being charged with the sexual assault of a 24-year-old woman on Athol Island sometime on Saturday, January 2, 2016.
As a result of that incident, the US Embassy in Nassau also "prohibited" its employees from using Jet Ski rentals in Nassau.
In December 2015, police arrested a Jet Ski operator in connection with an alleged sexual assault of a female visitor. That incident allegedly took place at Cabbage Beach.
In 2014, an American woman claimed she had developed post-traumatic stress disorder following an encounter near Paradise Island with Jet Ski operators who allegedly tried to sexually assault her.
Oversight
Asked what he thought needed to be done with the industry, Mr D'Aguilar called for more "responsibility and onus" on the part of operators in the industry.
He stated: "They are aware of what the industry means to them and their family. This is their livelihood and they are this country's first line of defence in this fight, we need them to do the best job of policing themselves."
He continued: "Like the government and the ministers respectively, those that manage and operate within this industry, they have to face some level blame if this continues.
"(Owners) are doing the hiring. Why aren't they checking the backgrounds of the people they are employing? Why aren't they ensuring that their businesses are in better hands? This is absolutely reprehensible.
"I'm not calling for the end of this industry. I am of the view that this sector can operate, but there has to be more oversight and management by all involved. There needs to be a regime in place to ensure that when people go out on the beaches and in to environments in this country, that they are not walking into the Wild West.
"We need to get a handle on this now, not later," he said.