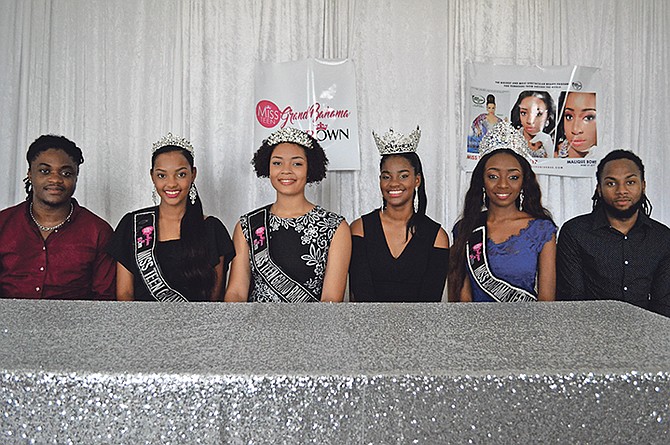 By DENISE MAYCOCK
Tribune Freeport Reporter
dmaycock@tribunemedia.net
DESPITE the lack of sponsorship, the Miss Teen Grand Bahama pageant franchise pulled off its first pageant event in Freeport and officially unveiled its five beauty queens over the weekend.
The event was held at the Grand Lucayan Ballroom on May 21, with some 14 contestants competing - five in the international category and nine in the teen category.
Hailey Adderley, 17, won the title of Miss Teen Grand Bahama International and Makel Yallop won the title of Miss Teen Grand Bahama.
The other three runner-ups were also awarded titles: Sasha Miller was crowned Miss Teen Goodwill Ambassador; Ariel Munnings was crowned Miss Teen Grand Bahama Gem, and Malik Bowe was crowned Miss Teen Universe/Commonwealth Grand Bahama.
Pageant organisers Dominic Russell and Darold Stubbs said the Miss Teen Grand Bahama Pageant is new on the pageant scene in Grand Bahama and they encountered difficulty securing sponsors from the community.
"There was a lack of sponsorship and support from the community and local businesses, but we were determined to make it happen, and we thank sponsors such as BTC, and several silent supporters who came forth," Mr Russell said.
"We feel the franchise will continue and in 2018 when we hope to get more support because all of the girls are 3.0 students and we would have loved for them to be walking away with a scholarship."
Mr Russsell said all of the queens are honour students.
"Two of them will be graduating this year with honours, and so if anyone can assist in getting these girls scholarships we would greatly appreciate it," he said.
"We wanted to introduce them to the public because we are very proud of them and we would like to thank the parents and our family and friends for their support."
Mr Russell said that Ms Adderley, Ms Yallop, and Ms Bowe were presented with new cell phones, laptops, teeth whitening kits along with makeovers and other prizes.
Ms Adderley, the overall winner of Miss Teen Grand Bahama International, said that competing in the pageant raised her self-esteem.
"Pageantry was a new experience for me. I learned a lot about myself," she said. "I was able to build my self-esteem, and my platform is to help other girls who suffer from low self -esteem."
Ms Yallop, Miss Teen Grand Bahama, enjoyed her experience and plans to compete in other pageants.
"It was hard in the beginning, but it was a good experience overall getting to meet all the other girls and to work with Mr Russell and Mr Stubbs," she said.
Ms Miller was awarded the title of Miss Teen Goodwill Ambassador because she performed the most community service hours than all the contestants.
She was very nervous about the idea of competing in a pageant but was able to overcome her fear.
"When I told my sister that I was participating in the pageant they were very shocked because they knew I am a very shy girl, but I went on the stage and I did it. I was able to build up my self-esteem, and I got to meet a lot of new girls," she said.
Miss Teen Grand Bahama Gem Ariel Munnings was the most improved young lady who overcame many struggles during the pageant.
"The experience was uplifting, and it was exciting meeting all the young women. When I joined, I was shy and a tomboy, but participating in the pageant I was able to interact with other people and learn to have a positive attitude towards myself," she said.
Ms Bowe said although it was her first time competing in a pageant, she learned the ropes quickly.
"It is something I would do again in the future. I also got the chance to share my platform which is peer pressure, and hope to educate young ladies about what peer pressure is, how to identify it, and avoid it."
Mr Russell said Miss Bowe would be going to Guatemala to compete in the Miss Teen Universe pageant in July.
He also stated that Ms Bowe would be the reigning queen in a separate pageant, the Miss Teen Commonwealth Bahamas pageant which will be held next year April in Grand Bahama.
Mr Russell said that all the queens would be doing a lot of community service, traveling and appearing at events and mentoring young ladies.