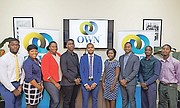 By DANIELLE BARNES
THE Island Luck Cares Foundation yesterday announced the winners of its third annual OWN Bahamas entrepreneurship programme, an initiative that offers funding and other resources for aspiring entrepreneurs who do not have the capital to bring their goals into fruition.
OWN Bahamas was launched in 2015 and has helped over 35 young Bahamian entrepreneurs achieve their goals of owning their own businesses.
Island Luck CEO Sebas Bastian relayed the benefits of the programme during a press conference. Mr Bastian explained that in addition to receiving between $7,500 to $15,000, winning applicants will receive one year of free newspaper advertisements in The Tribune, one year of free internet and phone services for their businesses from BTC, a six-week business course at the University of The Bahamas, and marketing help inclusive of web and graphic design for products and services.
"We give them all the ingredients necessary to really hit the ground running day one," he said.
This year, the programme received over 2,500 applicants. Due to the profuse number of young people applying, Mr Bastian sees the need for venture capital programmes in the Bahamas and is proud that the applicants are going after success the way they should.
"The future of the country is in the hands of the youths today."
He added: "As you can see, these persons are taking the bold step of not waiting for a hand out [and] not waiting for someone to pass them opportunities."
Owning businesses can be considered difficult or out of reach to many locals. Companies face hardships, but Mr Bastian and his team have seen many positive outcomes from past winners.
"We've been tracking them and we have seen a success ratio of about 75 per cent," he said.
"They're still in business, still going [and] striving every day."
The programme is open to all legal and eligible Bahamian citizens. The applicants are required to provide a brief biography and business plan that includes an outline of their goals and aspirations.
The OWN Bahamas selection committee granted 10 Bahamians the opportunity to reap the benefits of opening their own businesses.
The two applicants to win the $15,000 grant are Margaux Blackman owner of Little Prodigies Music & Arts School and Virley McKinney, owner of Asphalt Maintenance Paving & Testing Company Ltd.