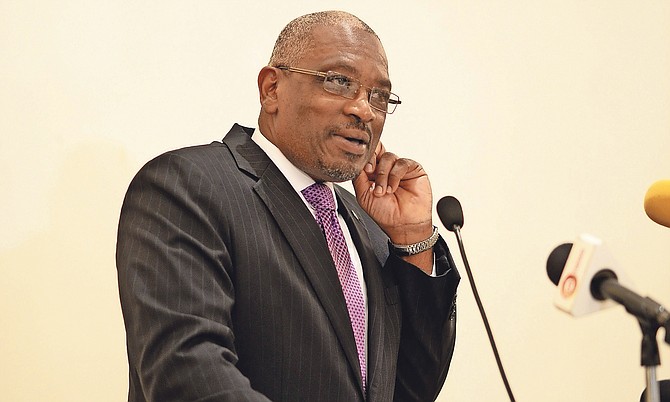 By RICARDO WELLS
Tribune Staff Reporter
rwells@tribunemedia.net
PRIME Minister Dr Hubert Minnis yesterday detailed his administration's tourism strategy, highlighted by plans to introduce several initiatives to re-energise Nassau and rebrand Grand Bahama as a "renowned duty-free shopping centre."
In an address at the Bahamas Hotel and Tourism Association's board of directors and membership association meeting, Dr Minnis committed his administration to a myriad of schemes and proposals he said were geared toward diversifying the nation's tourism product.
Referring to all of the multinational resorts, boutique hotels, fishing lodges, water sport operations and ground transportation companies currently operating, Dr Minnis suggested that further diversification of these enterprises can increase the country's overall profit margin.
The Killarney MP insisted that this style of diversification will play a major role in the "master plan" his administration intends to roll out over the course of its term in office. 
Alluding to the setbacks and shortfalls brought on by Baha Mar over the last two years, Dr Minnis said his administration's plan will look to strengthen the links between foreign direct investment and home-grown businesses, instead of hinging opportunities primarily on the backs of the former.
Dr Minnis went on to pitch what he called an "incentive framework for entrepreneurs," a system he said would facilitate local and international access to capital, encourage joint ventures among private interest; facilitate the improvement of business advisory and encourage the cultivation of tools to stimulate Bahamian entrepreneurship in tourism.
He said it was time for bold thoughts on how Bahamians could own or be involved in multiple dimensions of tourism.
"Twenty-first century travellers seek more than the proverbial sun, sand and sea. They travel in search of unique and authentic experiences. Ours is a richly textured culture, our history, music, food, dance, art, craft and our folkways are distinctly different. We must fully capitalise on our culture and heritage to add a more vibrant visitor experience," stated Dr Minnis.
He later added that the formation of joint ventures will be a central approach to the execution of projects, inclusive of the restoration and maintenance of historic sites and the designation of iconic locations.
Of these sites, Dr Minnis specified Clifton Heritage National Park in New Providence, Mount Alvernia in Cat Island and the Columbus Monument in San Salvador and plantation ruins on other islands.
Dr Minnis said the country is "nowhere near" monetising the number of cruise ship passengers coming to the Bahamas, and as such, he said he views these "heritage experiences" as a prime avenue for expansion.
"My government is committed to completing the National Museum of the Bahamas for the benefit of Bahamians primarily, but also as a heritage experience for tourists. Cruise passengers throughout the world visit museums. Imagine if New Providence can provide more of these experiences," Dr Minnis said.
Among his recommendations for initiatives in New Providence Thursday, Dr Minnis called for the refurbishment of Festival Place, the creation of a native food market in the Over-the-Hill community, the construction of a maritime museum at the Lowell J Mortimer Maritime Institute and the development of heritage and eco-tours throughout the country through the use of signage, on par with the Blue Plaque system used in the United Kingdom.
"I suggest that we develop the Aqua Plaque, which can be used as a heritage marker in the Bahamas. Bahamian designer Carla Whittingham has already designed a prototype, which is cast in appropriate material for our climate. The Aqua Plaque should be utilised with other signage to note the significance of the heritage site in question and to recall noted Bahamians associated with the site."
Dr Minnis said he plans to direct the Ministry of Tourism and the Ministry of Youth, Sports and Culture to collaborate on making the scheme a reality as soon as possible.
Of the proposed native food market, Dr Minnis said that the market's physical structure would be adorned with Bahamian art and will act as a major economic empowerment and revitalisation project for that community.
"Our native food market will welcome scores of Bahamians and tourists. It will provide business opportunities and allow many Bahamians to sell their goods and products. The native food market will have a variety of foods and products for sale from ice cream to potato and cassava bread, tamarind sauce, local teas and other Bahamian treats."
Lastly, of the refurbishment of Festival Place, the prime minister said plans are in place to convert the welcome centre into a commercial and recreational space conducive to retail and restaurant businesses.
He added that the move would help to re-energise the city of Nassau and provide more engaging interactions for cruise passengers and more economic opportunities for Bahamians.
Dr Minnis' roughly 30-minute address Thursday spoke primarily to re-build the brand identity of Grand Bahama, while incentivising investments on that island.
The Killarney MP said it is the goal of his administration to make the island of Grand Bahama a renowned duty-free shopping centre for residents and millions of visitors from around the world.
Dr Minnis said the government is prepared to roll-out a "workable plan" for tourism in Grand Bahama that would position the city of Freeport and the district of Lucaya as a maritime, sports and wellness destination; East Grand Bahama as an eco-tourism mecca and West Grand Bahama as a site for culture.
Dr Minnis also spoke of how his government would look to facilitate the economic empowerment of the Family Islands through grants of Crown land, assistance with technical and marketing support and particular tax exemptions for specified periods.
He said his administration intended to invest in the modernisation of Family Island infrastructure with the goal of providing clean potable water, good roads, modern airports and docks and will incentivise locally owned airlines to establish local hubs for inter-island transportation through strategic partnerships.
Additionally, he said the government will actively seek to increase travel from both traditional and non-traditional airlift markets.
In the long-term, Dr Minnis said his government will work towards introducing legislation to make it attractive for international filmmakers to produce cinematic productions at a fraction of the cost comparable to other leading off-site film locations.
He also called for the registration of hospitality products such as vacation rental homes, which are currently operating outside of regulations, to "level the playing field" and ensure national standards of safety and quality.
Dr Minnis said his government will also look to build linkage between agriculture and tourism, focusing efforts at Bahamas Agriculture and Marine Science Institute on the production of select products for local and export markets; privatise produce exchange, provide land, supplies, equipment and business services to Bahamian farmers to support the industry.
The government also plans to introduce tax incentives and concessions to encourage Bahamian farmers and farming cooperatives throughout the country to promote sustained production and packaging initiatives and to ensure the continuous supply of quality products.
Additionally, Dr Minnis said his administration intends to augment the resources of tourism police to ensure the safety and security of visitors, noting that it would be the only way tourism could survive.
The Bahamas Hotel and Tourism Association meeting was held at the Hilton Hotel.