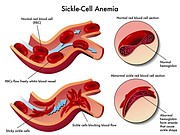 By ALESHA CADET
Tribune Features Reporter
acadet@tribunemedia.net
To mark World Sickle Cell Day yesterday, the Bahamas Sickle Cell Association hosted a pain management forum for those affected by the condition.
Held at the J Whitney Pinder Building on Collins Avenue, the forum highlighted and provided tangible information on how to manage pain, which medications are available, and gave practical advice for those who live with chronic pain. Information was also provided for persons interested in their own maintenance plan and to caregivers regarding to the importance of understanding sickle cell disease and its impact on the daily life of persons who are suffering from it.
Sickle cell disease (SCD) is a severe blood disorder that affects haemoglobin, the protein found in red blood cells that help carry oxygen throughout the body. The Bahamas Sickle Cell Association (BSCA) was founded in 1981 by Dr Patrick Roberts and a group of civic-minded individuals, some of whom were personally affected by the disease.
"BSCA has hosted two forums each year, and these forums are all about sharing information with persons, caregivers and others affected by SCD. BSCA believes that each person with SCD should have the information and knowledge to create a comprehensive response to manage pain. We believe that in order to get the needed support for the goals of BSCA we have to make the opportunities to tell our story. This is such an opportunity," said Sonya Longley, president of the BSCA.
Despite hosting numerous forums in the past, yesterday's forum was a first on the topic of pain management.
Dr Shakera Carroll, a family medicine consultant with the Public Hospitals Authority, conducted a presentation that focused on understanding painful episodes and how to prevent them, how to effectively manage pain at home, and shared her knowledge on why it is important for persons to know when to seek medical attention and what information to provide at a medical visit.
She also shared that some triggers of painful episodes are caused by dehydration, climate or environmental changes, and other illnesses like a simple cold.
Ms Longley added that the BSCA is very grateful to be able to create awareness of the negative impact sickle cell anaemia has not only on the health of a person, but also on their economic, social and educational status.
She said BSCA uses its forums and other avenues to prepare and distribute substantive educational materials, both written and visual, about the condition for all relevant segments of society.
"Persons living with SCD live in pain on a daily basis and suffer pain crises more regularly if not controlled with medication and some home remedies. My role as president is to drive the goals of the association and to use all avenues available to ensure advocacy and education is paramount on the sickle cell disease. I work very closely with the board of directors who approves all activities of the association. The board is tasked with finding ways to get the message out on SCD and its impact. They are dedicated to advocating and encouraging continued research for a cure for sickle cell disease while working to enhance the quality of healthcare, life and services for individuals and families affected by this disease. A forum helps us to get this message out to the public," said Ms Longley.
The next forum is scheduled for September, World Sickle Cell Month, and will include a number of activities including a fun run/walk both in Grand Bahama and New Providence, a mini fair and raffle, and an all-day seminar geared towards giving a complete representation of persons living with SCD.
"It is my hope that the BSCA is able to provide a better understanding of BSCA and SCD. We would like the support of the general public in helping us to achieve our goals and for the media to assist us in getting the word out on our activities which will benefit persons living with SCD. We would also like to develop a registry for persons with the trait as well as the disease. The information gained will support and expand our existing educational information platform for children and adults living with the disease. Our website, Bahamassicklecell.org, is open now for online registration. BSCA is aware that the only cure for SCD is to have a bone marrow transplant and we support families economically and emotionally on this life-changing mission. The association has already donated over $8,000 and we hope to assist more families over the coming year," said Ms Longley.