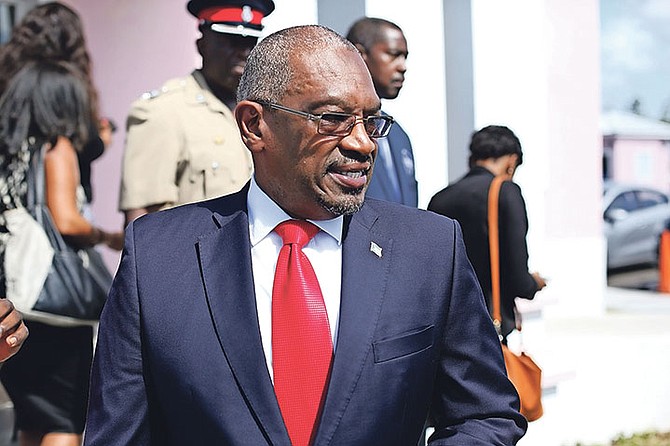 By KHRISNA VIRGIL
Deputy Chief Reporter
kvirgil@tribunemedia.net
IN THE months ahead of the May 10 general election, one vendor received more than $8m to clean up New Providence in the wake of Hurricane Matthew of the $28,975,180 spent on these efforts in the country, while the government missed out on a more than $31m insurance payout because it opted not to pay the country's Caribbean Catastrophic Risk Insurance (CCRIF), Prime Minister Dr Hubert Minnis revealed in Parliament.
In a riveting contribution to the budget debate in the House of Assembly, the prime minister said upon his review of payments made to various vendors, he was "astonished" by the payouts made to Jonathan Ash.
There were 46 transactions made to this vendor through several of his companies, Dr Minnis said, as he revealed that in at least two separate instances, Mr Ash received multiple cheques in one day. He also received $151,000 on May 9, just one day before the election.
Dr Minnis said this, along with other "shocking" information, will be passed on to Auditor General Terrance Bastian for investigation.
The Killarney MP said $22,939,178 was spent on clean up in the capital, $5,881,649 was expended in Grand Bahama and $154,360 in North Andros for cleanup.
Dr Minnis told the House that it was absolutely unacceptable for public funds to be chanelled to a select few in the aftermath of the hurricane, while Bahamians were made to wait for long periods of time to receive money that was owed to them.
"Following the passage of Hurricane Matthew, a number of individuals were engaged in the clean up efforts," Dr Minnis said. "Upon my review of payments made to various vendors, I was astonished by one particular vendor which stood out.
"There are many questionable payments, but the payment to Ash Enterprises is shocking. Contracts were awarded to Mr Ash on behalf of Heavy Truck Line Services Ltd, Earthmovers Incorporated Company and Industrial and Heavy Duty Equipment Company.
"I note that Earthmovers is not registered with the registrar, Industrial and Heavy Duty Equipment Company is not registered with the Bahamas Registrar General's Office and Heavy Truck Line Services was registered in February of this year.
"This one vendor received 46 payment transactions totaling $7,056,348.24. You want me say the vendor's name? Jonathan Ash. His request for payment was submitted through the Ministry of Works and the National Recovery Unit.
"Mr Speaker I had to look this up because Bahamians would understand what I am talking about. Many Bahamians understand and know how difficult it is to receive payment in a timely manner from government overtime allowance salary, very difficult."
Dr Minnis continued: "Now to give an example, on the 18th of January 2017, Ash Trucking got a cheque for quarter million dollars. One the 20th, two days later, so he's good, he got a cheque for $206,400. But then he came back that afternoon on the 20th and got another cheque for $220,912.
"But that wasn't enough. He came back on the 20th and got another cheque for $225,750. Then he came back on the 26th of January and got a cheque for $206,400.
"Then he came back the 26th again and got another cheque for $195,900 then on the 26th he came back and got another cheque for $226,800, but then look like Ash took a break. "But Ash came back four days before my birthday, he came back on the 13th of April for $225,750.
"Mr Speaker I could go on and on but just to show you another example: on the 26th of April, Ash collected three, four cheques in a day, while people can't get overtime pay and can't get allowance. I am skipping quite a bit, but I am just trying to show you, Mr Speaker, Ash must be had contacts somewhere."
Value
Official Opposition Leader Philip Davis questioned whether the prime minister was arguing that Bahamians had not got value for money.
Mr Davis said: "The question I am asking him, I hear him talking about payments being made, but I wonder whether the allegation is that value is not being received for the payments made. It's one thing to expose the payment, but it's another to say these payments are being made with some propriety attached to it."
Dr Minnis added: "I will just say the day before election on the 9th of May, he got $151,524."
"But the only other thing I want to mention is that through vouchers he would have submitted he would have gotten $7,574,080.24. So now he would have gotten vouchers today and then the company come in tomorrow. His company got $1,057,550 for a total, now the Bahamian people can decide whether it was value for money, I ain't into that, for a total of $8,631,640.24.
"It doesn't stop with the vouchers. This same vendor was awarded three contracts in the name of three companies as follows: Earthmovers Inc Company (in the amount of) $240,000 for cleaning and sorting debris at the Harold Road dumpsite for two months. Heavy Truck Line Service $619,560 for cleaning and sorting debris at the sport centre dumpsite for three months and Industrial Heavy Duty Equipment company $198,000 for cleaning and sorting at the Carmichael Road dumpsite for three months.
"I want this job. I'll leave medicine tomorrow," Dr Minnis quipped.
These three contracts for clean up activities totalled $1,057,560.
When this is combined with the other contracts for work, Dr Minnis said Mr Ash pocketed $8,113,908.24.
Insurance
With reference to Hurricane Matthew, Dr Minnis read into the record portions of a letter he received on May 31, 2017 from the chief executive officer of the Caribbean Catastrophe Risk Insurance Facility. Dr Minnis said what this letter revealed about the insurance was shocking.
Following Hurricane Matthew's passage last year, former State Finance Minister Michael Halkitis said the then government had ceased payment to (CCRIF) because the country would only have received compensation in the event of a category five hurricane.
Matthew came through this nation as a category three/four storm, and Mr Halkitis said the Christie administration had decided to drop CCRIF participation and establish its own disaster fund as "the threshold was just too high," Tribune Business reported.
Dr Minnis said yesterday: "He (the CEO) wrote: 'We are pleased that the Bahamas has been a member of CCRIF since its inception in 2007. We are pleased that the government purchased tropical cyclone (hurricane) policies every year between 2007 and 2014 and also purchased policies for both tropical cyclones and excess rainfall for the 2015/2016 policy year.
"'However, we deeply regret that the government decided not to renew its CCRIF policies for the 2016/2017 year resulting in the Bahamas missing out on two CCRIF payouts from Tropical Cyclone Matthew.' I note that the annual policy for this insurance facility was approximately $900,000. I was shocked by what the CEO of the Caribbean Catastrophe Risk Insurance Facility went on to say in his letter.
"He stated: 'Based on the registered losses, it means that had the government of the Bahamas renewed its tropical cyclone policy for 2016/2017, using the previous year's policy conditions, the policy would have triggered, resulting in a payout of approximately US$31.8 million, equal to the coverage limit.'"
This would have been the single biggest payout, according to the prime minister, ever made by CCRIF to any country.
The Bahamas' excess rainfall policy would also have been triggered, resulting in a payout of US$855,874. Of course, those payouts would have been larger depending on the coverage purchased, he said. CCRIF made payouts totalling US$29,204,248m to its other four CCRIF member countries affected by Hurricane Matthew.
"These payouts, he said, were made to Haiti, Barbados, Saint Lucia and St Vincent & the Grenadines on their tropical cyclone and/or excess rainfall insurance policies – all within 14 days of the end of the event," Dr Minnis said.