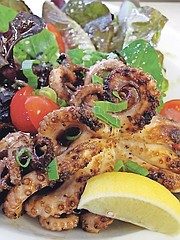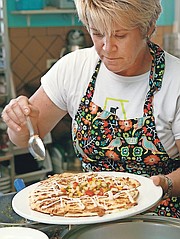 Iconic Harbour Island restaurant, Sip Sip, will open its first outpost location at Atlantis's The Cove property this November as part of the resort's efforts to offer a more authentic Bahamian experience.
Bahamian chef, Julie Lightbourn, will bring her 'Caribterranean' menu – 'Bahamian but with a twist' – to The Cove's redesigned poolscape with two restaurants. One will be located poolside, and the other on the Paradise Island beach.
To enhance the dining experience, and replicate Sip Sip Harbour Island and its sea-facing deck, Bahamian architect, Mark Henderson, has partnered with Jeffrey Beers to design the dining terrace and beachfront deck.
A no-reservations lunch spot on Harbour Island, Sip Sip has developed a reputation for its barefoot Bahamian feel and welcoming environment over the past 15 years. Staying true to its original vision and design, The Cove outlet will use locally-sourced seasonal ingredients. It is committed to supporting Bahamian culinary traditions by working directly with local fishermen and farmers.
Chef Lightbourn said: "My husband and I dreamed of having a place that was true to Harbour Island's legacy of friendly hospitality; a place where locals and tourists would come for a home-grown, Bahamian-inspired meal and the perfect rum punch.
"We are absolutely thrilled to be partnering with The Cove to bring the spirit and tastes of Sip Sip Harbour Island to Paradise Island."
She added: "It's even more exciting that the resort wants to capture our open-air, laid-back vibe, feature Bahamian artwork, and the new beach deck overlooking The Cove's lovely beach and the turquoise water will be the icing on the cake."
The name 'Sip Sip' is a play on words that takes guests from thoughts of sipping tropical cocktails to the discovery that sip sip is Bahamian slang for 'gossip'. The design team will bring the restaurant's tropical colours and fun, beachy feel together with intimate, locally-inspired design, genuine Family Island hospitality, the spirit of Bahamian architecture and locally-sourced, home-grown food.
The new bars at Sip Sip Paradise Island will incorporate elements of the original, using Sip Sip's trademark green and blue colours, traditional white louvers and director chairs. The patio restaurant and bar will translate the essence of the Bahamas throughout its outdoor dining area, where Mr Henderson will use white wood shutters, mahogany bar tops and art made from buoys salvaged from Bahamian beaches. As Sip Sip has long supported local artists and shown their works in the restaurant, new pieces from many of these same artists will be incorporated into the design.
The menu will feature favourites such as the Spicy Conch Chili and Curried Chicken Salad, the Lobster Quesadilla, and the Sunday special, 'Boil' Fish with homemade johnnycake. Dishes featuring limited fresh or seasonal ingredients - from Bahamian-grown arugula and heirloom tomatoes, to pineapples and mangoes - will be on the blackboard menu and will change daily.
New, exclusive recipes have been created just for The Cove, while popular 'sips' will include the signature Sip Sip Rum Punch, Sip Sip Sky Juice, a trio of Sip Sip Margaritas, Passion Fruit Sangria and the Watermelon-Vodka Cooler. The famous Sip Sip Carrot Cake with Ginger Caramel will also be served, along with homemade ice creams and Fresh Coconut Cream Cheesecake.
Howard C. Karawan, president and managing director of The Cove and Atlantis, said: "When conceptualising our new 'Come to Life' vision, with the intention of supporting and bringing out the authentic Bahamian culture, we sought out Chef Julie to instill the spirit of the surrounding Family Islands to our resort in Paradise Island.
"Sip Sip is the perfect addition to The Cove, and we are looking forward to bringing Julie's delicious and inspired local cuisine to our guests."
Initially opening for lunch only, Sip Sip will expand into evening private cabana dining.