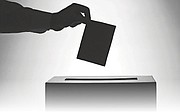 By DENISE MAYCOCK
Tribune Freeport Reporter
dmaycock@tribunemedia.net
ALTHOUGH there are 25,000 registered voters on Grand Bahama, there continues to be low interest and participation in the local government election.
Voting centres opened at 8.30am yesterday, but there were no long lines and voter turnout was slow, particularly at the polling stations in Freeport.
Freeport Administrator Preston Cunningham was very disappointed about the lack of participation from voters in the City of Freeport District.
"This morning it was very slow," he reported. "I left one polling station at 9am and the first person had not reached yet to vote."
There was a little improvement when he checked again around 11am when one polling station had some 50 voters.
"I am not sure what would have transpired since I last checked, but it did not appear from what I saw early in the day that we would have had a good turnout, and it is cause for concern," Mr Cunningham said.
He hoped that the numbers would increase later in the day.
Administrator Cunningham expected that voters would be more enthused after coming off a very high turnout in the general election on May 10.
He believed that recent controversies surrounding councillors in the past might have discouraged voters.
"I think it has a whole lot to do with the way councillors behaved in the past; they are too selfish in their thinking and not acting in the best interest of the community. They are more concerned about political alignment, and there is no respect for democracy," he said.
Last week, Mr Cunningham reported that a significant number of new, young individuals nominated as candidates this year, more than any other time since the introduction of the local government in 1996.
In the Freeport District, a total of 34 candidates are vying for the nine council seats - three seats in Marco City; and two seats each in Pineridge, Central Grand Bahama, and East Grand Bahama.
Despite the disappointing turnout, Mr Cunningham hopes that a "good slate" is chosen to serve.
"We need unselfish individuals who are willing to learn and be retrained," he said.
In the east, voter turnout was not as disappointing, according to Administrator Harvey Roberts.
He stated that while voters were trickling in slowly, he was pleased with the turnout of eligible voters.
"It is slow, but we are doing really well," reported Mr Roberts.
In Sweeting Cay, he indicated that of the 99 eligible voters, 75 had turned out up to press time. In McLeans Town where there are 210 eligible voters, he said 79 turned out at last report.
Mr Roberts reported that of the 122 voters in Mather Town, 65 had voted; and of the 196 eligible voters in High Rock, 115 had turned out.
He said that there were two positions that were uncontested in the east – Iram Hield in Water Cay and Marcus Cooper in Free Town.
"I am not disappointed with the turnout; I think we did very well," he said.
Administrator Brenda Colebrooke could not be reached up to press time.
Some of the candidates were very optimistic about being elected in their area.
Tammi Mitchell, the candidate for Pineridge, hopes to be among the two chosen to represent her community.
"I am pleased about the support I am getting from persons. It has been very good so far, and individuals have wished me well, and I am just eager to serve my community," she told The Tribune.
Ms Mitchell, who is no stranger to service, is a NEMA warehouse manager in Grand Bahama.
The Tribune caught up with Earl Neely, the candidate in Marco City at the Jack Hayward High School.
Mr Neely, who is also a well-known radio DJ, decided to run for local government to serve his community and help introduce some new much needed social/recreational programmes.
At the Freeport Primary School, Erris Hutcheson, candidate for East Grand Bahama, said that he decided to offer himself because he felt he could make a difference in his community.
"There is a lot of neglect; we have a lot of signage down, speed bumps that are needed in more areas, and playgrounds are overgrown and littered with trash," he said.
A total of 160 candidates nominated in Grand Bahama for local government positions. The results of the election will be released today.