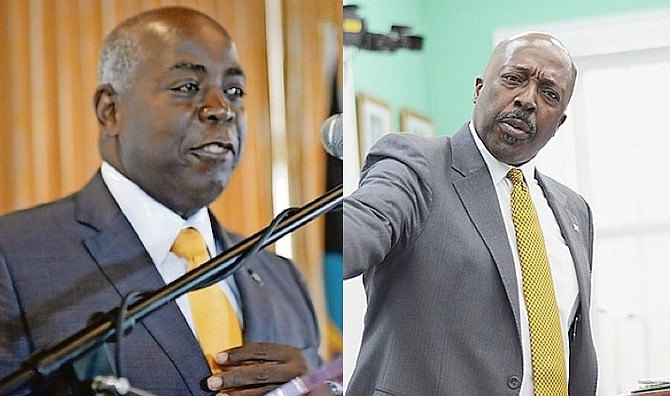 By RASHAD ROLLE
Tribune Staff Reporter
rrolle@tribunemedia.net
FORMER Deputy Prime Minister Philip "Brave" Davis said he does not know what specific process resulted in Johnathan Ash's selection to provide more than $8m worth of cleanup services after Hurricane Matthew and that former Labour and National Insurance Minister Shane Gibson, the hurricane czar, was head of processes related to such matters.
Mr Davis said the first time he became aware of the matter was when it was raised in Parliament this week, saying none of it came to his attention while he served as Minister of Works. However, he said he was advised that Mr Ash's "contract award followed the usual procedures."
His statement comes after Mr Gibson, when asked by The Tribune Wednesday for insight into how contracts were awarded in the aftermath of Hurricane Matthew, said: "Those were issued by Ministry of Works. Not me."
During his contribution to the budget debate Tuesday, Prime Minister Dr Hubert Minnis said Mr Ash's requests for payments were submitted through the Ministry of Works and the National Recovery and Reconstruction Unit (NRRU) which is in the Office of the Prime Minister (OPM).
Dr Minnis described the payments to Mr Ash as "shocking."
On Wednesday, the permanent secretary in the Ministry of Works, Colin Higgs, referred this newspaper and its questions about this matter to the director of public works. That person did not return The Tribune's call. Additionally, Jack Thompson, the permanent secretary in the OPM, also declined to comment on the matter on Tuesday. Prior to his current post, Mr Thompson was the permanent secretary with responsibility for NEMA. He was based in the OPM.
A high-level source in the Ministry of Works referred The Tribune yesterday to the OPM since it was Dr Minnis who suggested in the House of Assembly that something untoward surrounds Mr Ash's arrangements. However, up to press time, the Office of the Prime Minister did not respond to Mr Davis' assertion that technical officers in the Ministry of Works knew about Mr Ash's capacity to perform the work he did and that he received his contracts following the "usual procedures" of the ministry.
Asked if he was aware of anything related to Mr Ash's contract when he was minister of works, Mr Davis said no.
"This never came before me," he said. "The first time I was made aware of this matter was when I heard it in Parliament. What I'm saying is hurricane relief is a special effort and has a process of its own. In an effort to facilitate and expedite the recovery efforts, Minister Gibson was appointed specifically for that. My ministry had some technical responsibilities and oversight to ensure value was being given for money. I'm advised that my ministry also would've been involved in the selection of contractors. That would not have come to my attention. None of it would have come to my attention."
Senator Fred Mitchell interjected and recalled teasing Mr Gibson about his appointment as hurricane czar during a press conference last year.
"You have to find a mechanism to cut through the bureaucracy," Mr Mitchell said. "That literally was the issue that we were trying to resolve. How quickly can we get this thing up so people would stop complaining about how quickly they could get hurricane relief."
Value
Although he did not know how Mr Ash received his contracts, Mr Davis said during hurricane restoration efforts little bidding takes place because of the urgent need to clean up islands.
"The contractor's work and ability to perform was, I am advised, well known to the technical officers of the Ministry of Works," he said. "The contractor is not, as far as I am aware, connected to the PLP. I am advised the company had the equipment and in an effort to ensure that the hurricane cleanup was done quickly and more effectively, a contractor with the expertise and skills and equipment was awarded the work. That contractor was Ash Enterprises."
Mr Davis said that some of the money paid to Mr Ash was paid to the subcontractors and suppliers who assisted him in the clean-up that he supervised.
He did not know how many subcontractors were hired by Mr Ash.
But, he said: "I am advised that there was value for money."
On Tuesday, Dr Minnis said there were 46 transactions made to Mr Ash through several of his companies totalling $7,056,348.24 and revealed that in at least two separate instances, Mr Ash received multiple cheques in one day. He also received $151,000 on May 9, the day before the election.
Dr Minnis said overall, Mr Ash pocketed $8,113,908.24.
He said two of Mr Ash's companies were not registered with the Registrar General and one was registered only in February.
That the companies were not registered is irrelevant, Mr Davis said yesterday, adding that Dr Minnis was "grasping at straws."
"It's not necessary to have a registered company to do business," he said. "It's necessary to have a business license and to be compliant with taxes. He has those items so he could do business."
Mr Davis criticised Dr Minnis for bringing private people into political debates.
"I don't think it's right for him to get up in Parliament and spew and call people's name without real allegations being made," he said. "If this contract was awarded, $8m was paid, then what next? What are you saying about it? If you're saying something was wrong then have an investigation, put it in the right hands and then those investigations would reveal insight into what happened."