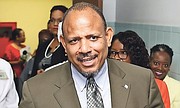 By DENISE MAYCOCK
Tribune Freeport Reporter
dmaycock@tribunemedia.net
MINISTER of Health Dr Duane Sands has revealed that a cancer treatment centre will be created in Grand Bahama so patients can receive chemotherapy on the island instead of having to go to New Providence.
He indicated that cancer services should be available on the island before the end of the year.
While in Grand Bahama on Friday, Dr Sands said: "We have discussed something today to make a commitment to bring a cancer treatment centre or oncology unit to Grand Bahama. It will not likely be situated at the Rand Hospital, but in the Eight Mile Rock Clinic."
For years, cancer patients from Grand Bahama have been traveling back and forth to Nassau for chemotherapy treatments. They are burdened with finding accommodations and having to pay additional incidental costs, such as meals and transportation, etc.
Freeport patients occupy 50 per cent of the 12 rooms at the healing centre provided by the Cancer Society of the Bahamas, it has been reported.
While speaking to reporters in Grand Bahama, Dr Sands mentioned that persons have been requesting and asking for a cancer centre in Freeport.
"I think having considered the challenges and emotional distress associated with the physical demand of patients going through the treatment, and we think it makes good sense and that it is the humane thing to do," he said.
"The challenge to date has been that many of the people from Freeport had to travel to Nassau to get treatment. Some patients have raised concerns and asked whether or not it is possible to have that care provided in Grand Bahama."
Minister Sands also talked about the improvements underway in healthcare on Grand Bahama following an extensive tour of the various facilities in Freeport, and in the west.
He was impressed with the "phenomenal" work taking place at the Rand Memorial Hospital, the $1.3m renovations at the West End Clinic, which is set to open in 30 days and work on a new primary care centre at the IAT Building in Freeport.
Dr Sands was unable to visit facilities in the east but promised to do so on his next visit.
"We tried to cover as much as Grand Bahama as we possibly could; we managed to make it everywhere, but to the east," he said.
"There is obviously an awful lot of activity going on in healthcare in Grand Bahama, and I must say I am absolutely impressed by the work that is being done by the Grand Bahama Health Services and the Public Hospitals Authority.
"I think Bahamians should be proud of the phenomenal work being done on their behalf throughout this system. This is a unique system where there is an absolutely holistic approach to healthcare with the central hospital, the Rand, being tagged to a number of peripheral clinics, many of which are being upgraded."
According to Dr Sands, no decisions have been made to stop any significant projects that are underway in healthcare on Grand Bahama.
"Our only interest is ensuring they are done in a timely fashion and done to bring value," he said, adding that some good ideas have been implemented.
The first stop of the tour was at the Rand Memorial Hospital, which is in the midst of a huge renovation.
Discussions have also been had concerning improving the layout of the Rand Hospital, he said.
"I don't want to preempt those discussions until we can look at costing, timeline, and design," he said.
Dr Sands also visited the IAT Building - situated across the street from the Rand - that will be the site of a primary health care centre for the proposed Out-Patient Department and Specialty Clinic.
The layout of that facility, he said, would allow phenomenal improvement in the ease of accessing primary care services.
"The ambiance is going to be comfortable and allow us space at the Rand to expand into a number of areas," he added. "We imagine the IAT renovations should be completed by the end of this year. So lots of progressive things are happening."
When asked about the newly proposed clinic in Freeport/Lucaya, Dr Sands said that it is in the embryonic stages of planning.
"I think that is quite early…but we have made both a clinical commitment and financial commitment to move along with that project," he said.
Moving west, the minister's entourage visited the clinic in Hawksbill, then onto to the clinic in Eight Mile Rock.
Dr Sands said that the EMR Clinic is a mini hospital offering dental and outpatient service. He praised the physicians on staff there.
Continuing west, the minister toured at the newly renovated state-of-the-art West End Clinic.
"We should be able to get it open in the next 30 days," he said. "It is a facility that has spared absolutely no expense in terms of providing value for the Bahamian public and is configured for a site for an ambulance which has been purchased and deployed there."