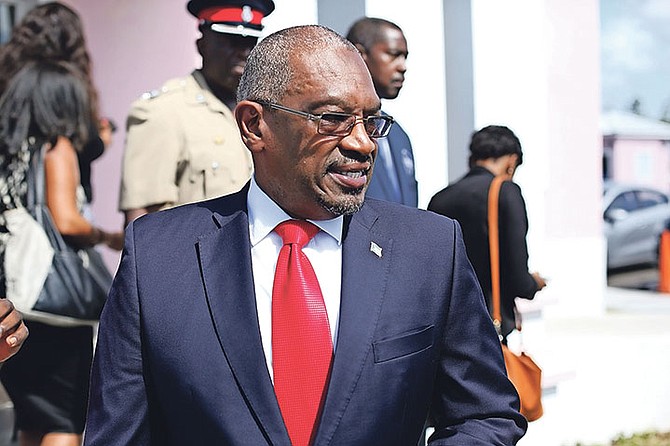 Reader poll
Yes, I agree. 71%
No, I do not agree. 29%
118 total votes.
By KHRISNA VIRGIL
Deputy Chief Reporter
kvirgil@tribunemedia.net
PRIME Minister Dr Hubert Minnis was on the defensive yesterday over his administration's apparent change in tone regarding how it intends to handle Baha Mar moving forward.
This has placed the newly elected Minnis administration in the line of criticism because in March Dr Minnis, then in opposition, pledged to "engage and execute a real sale of Baha Mar to a qualified and respectable purchaser who believes in Bahamians; a purchaser who will utilise only Bahamian labour to complete the resort, and will put Bahamians back to work with real jobs as quickly as possible."
However, since being elected to office, the government has seemed to step away from this position with Attorney General Carl Bethel, QC, last week stating that there was nothing in the newly unsealed Baha Mar documents that prompts renegotiation of the deal.
Asked about the criticism in this regard, Dr Minnis said: "I have been criticised for five years on many things so that's nothing new. Thank you."
Before this, he was asked to state the government's stance on the beleaguered West Bay Street resort and appeared to be annoyed in his response.
"Listen I told you over and over," he told a reporter. "I don't know what about the English language you don't understand. The government, just like the Bahamian people, we want to see Baha Mar functioning to provide jobs and opportunities for Bahamians and we'll work towards that goal."
Pressed further for his position on former Baha Mar developer Sarkis Izmirlian's plea for a moratorium on the sale process, Dr Minnis said: "I have answered you. I told you our position. We would like to see Baha Mar opened and provide job opportunities for Bahamians."
He did not respond to a question on whether he was going to review the hotel's file.
This exchange with reporters followed the morning session of the House of Assembly, which has been adjourned to September 13.
The Nassau Guardian reported that earlier on Wednesday, Dr Minnis told that newspaper that he would not intervene in the Baha Mar sale. That newspaper also reported Mr Izmirlian reportedly met with Dr Minnis last week. When asked about this on Tuesday, Press Secretary Anthony Newbold said he could not confirm reports that Dr Minnis had met with the former developer or his associates.
On Sunday, Mr Izmirlian called for a moratorium on the mega-resort's sale to Chow Tai Fook Enterprises Ltd and a full investigation into the deal struck by the former government citing "unusual, one-sided" concessions and openly accusing the Christie administration of "self-dealing" and "state-sponsored discrimination."
It came days after members of the new administration said it saw no cause to renegotiate the terms of the sale.
A statement from Mr Izmirlian's BMD Holdings Ltd explained the demand for the sale process to be halted was motivated by a review of the recently released heads of terms between the Export Import Bank of China (CEXIM), China State Construction and the government.
The statement reiterated the former developer's pledge that he is fully prepared to purchase the beleaguered resort, complete construction and operate it with a full Bahamian workforce and organisation.
It also notes that BMD is now considering legal options against the parties involved in the heads of terms.
However, on Tuesday, Mr Newbold said the government has no official response to Mr Izmirlian's plea at this time.
He added that the situation is still being evaluated.
Mr Newbold stressed that the sale was a "very complicated situation" still under review by the government.
He said: "There has been no official reaction to the suggestion because the contracts and the entire situation is still being evaluated.
"I'm told it's a very complex situation. Undoubtedly, I will say though, the Bahamian people have a vested interest in the success of that development and we believe that now is the time to ensure that any safeguards that need to be put in place, now is the time to do that in this process," Mr Newbold said.