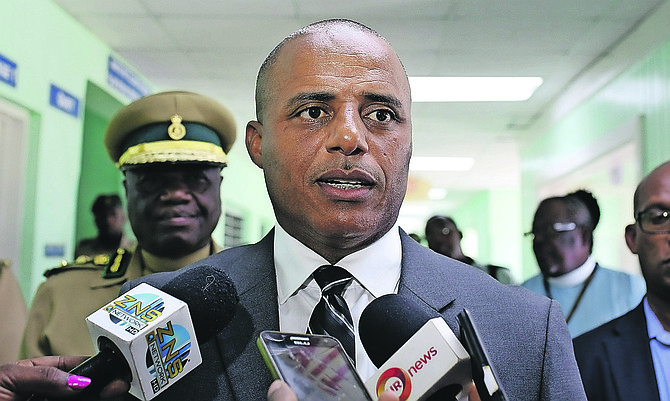 By KHRISNA VIRGIL
Deputy Chief Reporter
kvirgil@tribunemedia.net
THE attorney general and his team are "working assiduously" to complete anti-corruption legislation to ensure that those sitting in the highest offices are held accountable, according to Minister of National Security Marvin Dames.
The Mount Moriah MP added that the public has the responsibility of bringing matters to the attention of the Royal Bahamas Police Force while the Minnis administration audits government agencies.
Press Secretary Anthony Newbold has said the government will table this legislation in the House of Assembly shortly after Parliament's summer recess.
The Commissioner of Police Ellison Greenslade "is responsible for investigating those matters," Mr Dames said on Thursday following the Royal Bahamas Defence Force's change of command ceremony. "The public has the responsibility of bringing the matters to the attention of the police and as we see matters during our audits within our own departments and throughout government we will certainly bring to the attention of the police.
"Wherever there are allegations of improprieties then we have to investigate it. There are no ifs, ands or buts about it.
"Bahamians are concerned with how the affairs of this country have been managed over the last five years and we will be doing a disservice if we ignore it as if nothing happened. It cannot be and so we are determined to do whatever is necessary within the framework of the law to ensure that we provide a full accounting to the people of this nation.
When we say it's the people's time we're not just saying that for fluff, we mean it and we have to be as transparent as possible. We pledged that while on the campaign trail and we don't intend to buckle at this time.
"So the unit that has been formed internally within the police force is addressing these matters while we work on bringing the bill to Parliament that will establish an autonomous anti-corruption agency whose responsibility will be to take on these matters and other matters in future."
He continued: "The attorney general and (his) team they are working assiduously now. They are looking at best practices because we want to make certain that when we do introduce an anti-corruption bill to Parliament (that) it is a bill that Bahamians will be pleased with (and that) it is a bill that will certainly cover all of the issues that are currently out there."
In keeping with its campaign promise to wipe out malfeasance in government and increase transparency, the Free National Movement administration pledged last month in the Speech from the Throne to create and enforce anti-corruption legislation for parliamentarians and public officers.
"My government will ensure that its ministers are held to the highest standards of constitutional and personal conduct. Consequently, my government will enact and enforce anti-corruption legislation for all parliamentarians and public officers," the speech, read by Governor General Dame Marguerite, noted.
"My government is proud of the capabilities of the team that you have entrusted with your mandate. As has been noted publicly already, we will ensure that all members of Parliament and all of the senior members of the public service are familiar with all of the practices, principles and tools of good governance as we get to work on your behalf," the speech continued.
For several months before the general election, stamping out acts of corruption was a common theme upon which now Prime Minister Dr Hubert Minnis capitalised.