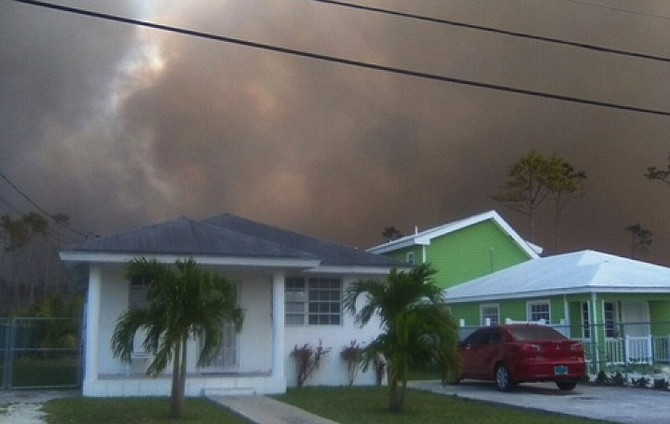 11.00am: FIRE Chief Assistant Superintendent Walter Evans said on Monday morning that while the colour of the smoke has changed, indicating less toxic fumes in the air, the fire at the New Providence Landfill has grown overnight and firefighters are still working to contain the blaze. The evacuation order for Jubilee Gardens is still in effect for Monday as most of the area is still covered in smoke. - FULL STORY HERE
Monday 9.45am update: ACCORDING to Leslie Miller, the MP for Tall Pines, the fire has come dangerously close to the gas company on Gladstone Road and trucks have been deployed there to prevent an explosion.
The fire also crept into the yard at Aquinas College on Sunday night but was extinguished before any damage could be done to the buildings. The College is closed on Monday.
Overnight reports are that no houses were burned or destroyed. Royal Bahamas Defence Force marines were on security detail all night in affected areas, ensuring homes were not vandalised or broken into.
Depending on the winds easing, residents will be able to return home later on Monday morning from shelters at the Kendal Isaacs Gymnasium and Mario's Bowling.
The Bahamas Humane Society took in five animals from Jubilee Gardens on Sunday night and reports that it is set up for an influx on Monday. The BHS is asking for food, bowls, towels, pet crates or cages (clearly labelled so they can be returned).
http://youtu.be/AF57xYh6sxs
By SANCHESKA DORSETT
Tribune Staff Reporter
sdorsett@tribunemedia.net
RESIDENTS in Jubilee Gardens were forced to evacuate their homes yesterday after a massive fire at the New Providence landfill blanketed the community in thick, black hazardous smoke.
Members of the Royal Bahamas Police Force blocked the entrance to the subdivision as visibility dropped to zero. Angry residents became involved in verbal altercations with the police after they were blocked from entering the area.
Several persons were also rushed to the hospital with respiratory complaints.
When The Tribune arrived on the scene, several residents were pouring water on their roofs, as the blaze grew closer to their homes. Member of Parliament for Tall Pines Leslie Miller was also assisting residents in hosing down their homes and providing transportation for those who needed help.
The National Emergency Management Agency (NEMA) activated its emergency management plan yesterday and an evacuation shelter was established at the Kendal G L Isaacs Gymnasium at the Queen Elizabeth Sports Centre - which was used as a shelter during the last hurricane - for displaced residents.
The fire at the dump is believed to have been started by a smaller bush fire off Fire Trail Road.
The landfill began to burn shortly after noon Sunday; however the first fire truck did not arrive on the scene until nearly 2pm.
The Tribune observed several heavy-duty trucks attempting to smother the blaze by pushing waste from the landfill on top of the fire, however, the wind proved to be a huge challenge and the fire doubled in size by 4pm.
According to Fire Chief Walter Evans, fire trucks were deployed to four other fires in several communities in the capital: one near Loyola Hall; another near NEMA and one near the Bahamas Youth Camp, which are all on Gladstone Road, as well as a fire at Charles Saunders Highway.
"When this fire started we had several other fires going on simultaneously," Supt Evans said. "There was a home that was destroyed and another home that was extensively damaged (in those other fires) and so our resources were stretched thin.
"We had in excess of 20 to 30 homes in those areas that were being threatened so resources were deployed there. This fire here in Jubilee is major. We have called for evacuation of persons in the area because in some parts of this community visibility is zero, which means we have to take the necessary precautions to ensure that members of the public are safe," Supt Evans said.
"We have asked persons who have relatives who reside in this area to have some compassion and provide assistance and shelter to these people. We have on site ambulances on standby and police cars and several fire engines in this area.
"We need to bring relief to this community and that is what we are going to do. We have a job to do and we have to keep these people safe. The cause of the fire has not been determined and there are additional resources that are being deployed to assist us."
Concern
Prime Minister Perry Christie arrived in Jubilee Gardens shortly after 3pm. He was greeted by concerned residents who expressed anger that nothing has been done to prevent the recurring dump fires.
Mr Christie said the government is currently in talks with two Bahamian groups to take over management services at the landfill.
"For us, we were just completing discussions with the Bahamian group that announced to the press that they have a foreign partner, who was represented in meetings that I attended. I indicated that we have to move with speed, anticipating that these things happen and we want it under full management. We have a second proposal from another group that is being processed," Mr Christie said.
"The point is that we have to put under management with the necessary resources and capacity, meaning people who manage sites today and that is the intention of the minster and the sad thing is the minister indicated to us some time ago that he was concerned about fires starting outside of the dump and spreading here," Mr Christie said.

"There is no choice in a matter of this kind, these people need to evacuate. We have made available the sports centre to assist these people. We have to do whatever is necessary not just to protect the residents and their assets but to ensure that they understand that though they have to protect their property they should not be in harm's way and that means even smoke inhalation.
"That has been our concern, so as far as the government is concerned, whatever is necessary we have to do to remediate and fix this situation and restore it to normalcy and have it placed under management. We have to give very serious consideration to those proposals because Jubilee Gardens and these areas are also the victims. We have to take very seriously the need for speedy action," Mr Christie said.
Minister of Environment Ken Dorsett said the fire started behind several businesses on Fire Trail Road but because of the strong winds, the fire spread in "no time" to the landfill. He said all resources were moved to Jubilee Gardens to protect the lives and property of persons living in the area.
"The fire department was fighting three or four fires at the time this erupted," Mr Dorsett said. "All resources are now here in Jubilee Gardens. They are obviously concerned in the first instance for the lives and property of the people in Jubilee but as was indicated we instructed the police department to advise the residents to evacuate.
"Additional resources are going to be deployed to contain the fire, we now have heavy equipment deployed at the Coral Harbour Base where they will be bringing fill that will cover the material and water trucks as well as the fire trucks that were deployed by the fire department are being put to maximum use," Mr Dorsett said.
Supt Evans predicted the fire will burn through the night and possibly into the early hours of Monday. The high winds - in excess of 35mph - which have been driving the smoke and flames are forecast to last into the week.
Because of the area fires, Aquinas College on Gladstone Road announced that it will be closed today.