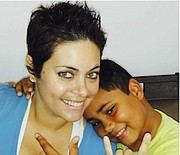 By BIANCA CARTER
There are a lot of infant and maternity products on the market that all claim to be must-have items, but not all of what they promise holds true.

In fact, the opposite might be true. You may be surprised that some items that you thought you didn't need end up being complete life savers. Here are a few essential, must-have items from a relatively seasoned mama:
• Functional and fashionable diaper bag is a must.
OK, I just threw in the fashionable part because that's kind of essential to me, but if you prefer practicality over looks, all power to you. Some super thrifty mamas might disagree with me here, but I can't stand clutter and unorganised mess. I'm not saying I'm a perfect Martha Stewart, but there's something to gain mentally by having a neat and organised diaper bag; a place where you can have harmony amidst occasional chaos. You know what I mean right, mama? If you can splurge a little bit, I would do it here. If you're really lucky, invest in a nice and functional high-end diaper bag, like Gucci or Coach. It's beauty and practicality all in one because you can re-use most of the high end diaper bags after the diaper bag stage is over by making it into an awesome travel bag. You need tons of pockets when you travel. See, it's an investment!
• Buy a wipe warmer.

My mom, bless her traditional and practical heart, told me that I didn't need a wipe warmer for my baby registry, and I believed-her!

She said that I could warm the wipes in my hand by rubbing them really fast between my hands, like in the warming-your-hands-up-in-the-freezing-snow motion. And I believed her. Then I got home with my first-born and every time I wiped him with a cold wipe he screamed at the top of his lungs, which made me want to cry too, or he peed on me, which also made me want to cry. Then I got a wipe warmer and all was well in the world. And I've forgiven my mom.
• Belly bands are your friend.

I know some of you blessed little creatures didn't even need to wear maternity clothes; you could get away with elastic leggings, skirts and oversized tops, some cute summer dresses. And that's so sweet, but for the rest of the not so glamorous, belly-bulging mamas that actually grew in more than one area during pregnancy, I'm talking to you. The belly band is a life saver, game changer, and mood enhancer all in one.

It's so simple, you're going to wonder why you didn't invent it. It's essentially an elasticised band that fits around your mid-section and allows your pre-pregnancy pants and apparel to stay open underneath while you feel secure that your pants won't fall down or shift out of place. To be honest, I think the slight compression and support around the belly feels good. You can even use them after pregnancy while you wait to get back into those size 4s or 8s, or whatevers. Oh, and they make them in the neutral tones – white, nude, grey and black. High-five, right?
• Get baby wrap or carrier.
You will soon realise that the more your hands are free, the more you can get done, and the faster, more efficient you can be. Baby wearing has been going on for generations and it's been making a big come back with today's mama.
Babies need and want to be with their moms. They spent nine months in their mother's belly, and they are very connected to her. There is nowhere else your infant should be other than with you. You're not going to spoil your baby by holding them, wearing them and being connected to them. You're actually providing important emotional bonds with your baby that will last a lifetime. And here's the bonus part, if you choose to wear or carry your baby around, they will cry less, and so will you. Ah, peace and quiet is possible.

Love and hugs!
• Bianca Carter is a certified lactation counsellor and founder of Bun in the Oven.

For more information, e-mail her at info@babybunintheoven.com. Follow BITO on Facebook at babybunintheoven, and check out the BITO Blog every Monday and Thursday at http://babybunintheoven.com.