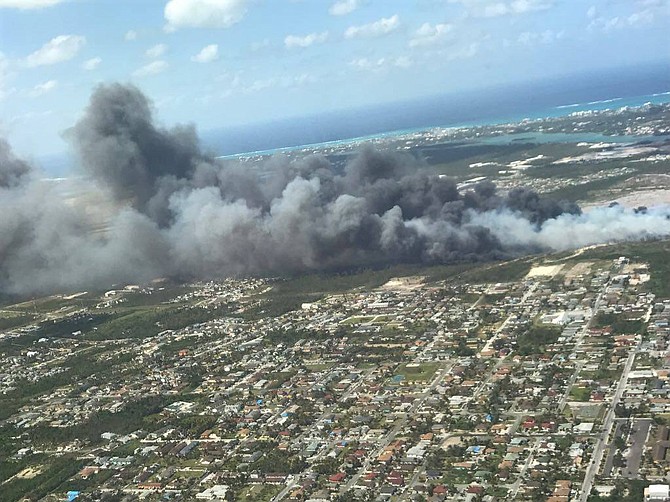 By SANCHESKA DORSETT
Tribune Staff Reporter
sdorsett@tribunemedia.net
THREE days after a massive fire broke out at the New Providence Landfill, head of Police Fire Services Superintendent Walter Evans said that firefighters have made "some progress in extinguishing the blaze," and the hazardous smoke that once covered Jubilee Gardens has been "significantly reduced."
However, Supt Evans said the cause of the fire, which started in bushes off Fire Trail Road and spread to the landfill, has still not yet been determined.
Residents in Jubilee Gardens were forced to evacuate their homes on Sunday after a fire at the landfill blanketed the community in thick, black hazardous smoke. The fire also threatened some homes in the area, however Supt Evans told The Tribune that no houses were destroyed.
"We are making progress, that is all I can say at this time. Things are moving," Supt Evans said on Tuesday.
"We are making significant progress and the conditions have been improved for the residents. We are working with a number of resources and the fire has not spread. The smoke has been reduced and the visibility in Jubilee Gardens has been improved. All the resources we have are spread between Jubilee Gardens and the fire that started in the back of Aquinas.
"Currently, there is no threat to the buildings and progress is being made with that forest fire as well, the biggest thing right now is dealing with the smoke."
Residents in Jubilee Gardens will have to wait at least five to seven days before the evacuation order is lifted and they are "safely" allowed to return to their homes, Minister of Environment Kenred Dorsett said on Monday.
At a press conference at the Office of the Prime Minister, Mr Dorsett said firefighters do not expect the fire at the New Providence Landfill to be extinguished for approximately a week.
He said firefighters are battling two different types of fires, one at the landfill and a forest fire in the surrounding areas.
The city dump has been plagued with recurring fires for a number of years. Renew Bahamas was engaged by the government in 2014 to manage the landfill and help address the matter, however the company ended its services in the aftermath of Hurricane Matthew last October.
The government subsequently took over management of the landfill.
Since then, The Waste Resources Development Group (WRDG), a consortium of 10 Bahamian waste management groups, has submitted a proposal to take over the operations at the landfill. This week, Prime Minister Perry Christie confirmed that two companies, both Bahamian, have submitted bids to run the dump. Mr Christie, who toured the affected areas on Sunday, said the matter should be resolved shortly.