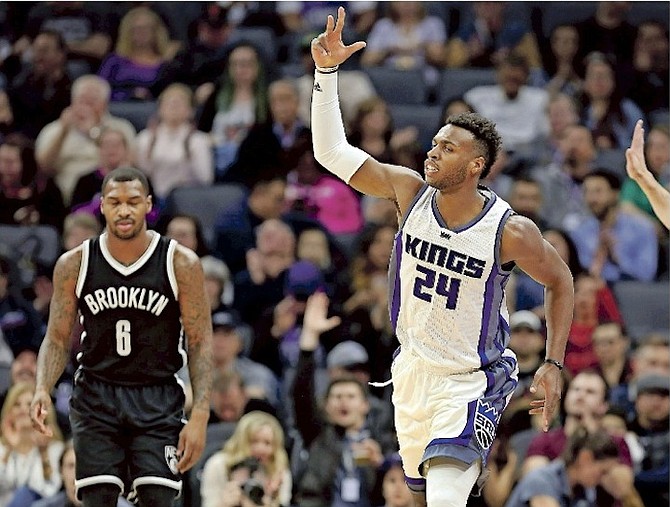 By RENALDO DORSETT
Sports Reporter
rdorsett@tribunemedia.net
As he continues to settle into his new surroundings in Sacramento, Buddy Hield has had a productive stretch for the Kings and has risen to No.5 on the NBA Rookie Ladder.
Headed into last night's matchup against the San Antonio Spurs (See NBA Capsules on page 17), Hield has averaged 13.2 points per game, shot 53 per cent from the field and 48 per cent from three-point range.
The numbers compare favourably to his season averages of 41 per cent shooting from the field and 38 per cent from beyond the arch.
Among rookies, that has moved him into sixth among rookies in scoring, first in three-point makes per game, 12th in three-point percentage. A further look at the analytics suggests that Hield has thrived with more freedom in the Kings' offensive scheme. His numbers in isolation situations and catch-and-shoot opportunities have measured against some of the league's leaders despite playing approximately 25 minutes per game.
"In situations considered "tight" defence by NBA.com, where a defender is within two to four feet, Hield is shooting 75 per cent from the floor," according to NBA.com. He also has a 64 per cent effective field goal percentage and a true-shooting percentage of 67 per cent.
Hield, the former No.6 pick of the New Orleans Pelicans, was one of the principals in a trade, packaged along with Tyreke Evans, Langston Galloway, a future  2017 first-round and second-round pick to Sacramento in exchange for All-Star centre DeMarcus Cousins and Omri Casspi.
Following the trade, stories suggesting Kings' owner Vivek Ranadive's thought Hield would be "the next Steph Curry" went viral, but the rookie guard refuted those claims in an interview with Bleacher Report columnist Grant Hughes.
"People said [I was like] Steph Curry in college. Yeah, I guess, but I've got to develop. Steph Curry, he's a different animal. He's in his own world. He does whatever he wants. I can't do the things Steph Curry does right now. I'm not Steph Curry," Hield said. "I'm Buddy Fresh. I'm Buddy Love. I'm just me. I'm just Buddy."
Hield will be expected to be a major component of a rebuilding young core for the Kings which will include 2015 lottery pick Willie Cauley-Stein, last year's first round draft pick Skal Labissiere and the future picks in 2017.
The Kings have been 1-5 in the timespan since the trade at 25-38, 0.5 game ahead of the Pelicans but still four games out of the eighth and final playoff spot.
"Losing is not in my DNA," he said. "No just cruising these last couple games and saying, 'oh, we don't have DeMarcus. Oh, we're not expected to win.' No. I want to finish out strong. I don't want to be on my couch watching those other 16 [playoff] teams playing. I want to do something better than that."