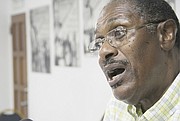 By AVA TURNQUEST
Tribune Chief Reporter
aturnquest@tribunemedia.net
PROGRESSIVE Liberal Party Chairman Bradley Roberts yesterday called on Free National Movement Leader Dr Hubert Minnis to investigate the "apparent waste" of $33.5m earmarked for a solid waste management programme in New Providence.
"The FNM borrowed $23.5m from the Inter-American Bank and used $10m from the Public Treasury to finance this project that to date has produced very little fruit if any," Mr Roberts said in a statement issued yesterday.
"This is a good starting point for Dr Minnis."
This loan was approved in February 1999, during a previous Ingraham administration, and the loan contract was signed in October of that year.
Dr Minnis was elected to Parliament in 2007 and served as a Cabinet minister during the last Ingraham administration.
The loan was intended to support existing government programmes in a bid to improve solid waste management in New Providence and on several Family Islands.
Primary components were said to include: institutional strengthening and regulatory adjustments; priority investments for disposal facilities; public awareness campaigns and recycling programmes.
The project is listed as completed on the IDB's website; however, project details indicate a cancelled amount of USD$ 1,689,746, and repayments totalling USD$17,308,414. Some $4.5m is listed as outstanding.
The programme was preceded by two loans for technical cooperation, but project details for the loans were not available online.
The first loan contract, valued USD$750,000, was intended for the preparation of pre-feasibility and feasibility studies for a solid waste management project, and was signed in February 1995. The project is listed as completed on the IDB website, which also notes a cancelled amount of USD$16,774.
The second loan contract was signed in May 1997 and is also listed as completed with a total value of USD$100,000.
Mr Roberts was firing back at criticisms levelled at the government by Dr Minnis over recurring fires at the New Providence Landfill.
He went on to criticise the FNM leader, who had responsibility for the site in the previous term, over his alleged "shameful record."
To elucidate his point, Mr Roberts recalled statements made by Dr Minnis about a 2008 fire at the New Providence landfill during his tenure as minister of health and social development.
Mr Roberts maintained the Christie administration's commitment to working with all stakeholders to achieve a resolution following the withdrawal of Renew Bahamas.
"Let us take for example the New Providence Landfill fire that burned for two days between 25th and 26th March 2008 while Dr Minnis served as minister of health and social development," Mr Roberts said.
"[Dr] Minnis pontificated about how 'recycling and mulching techniques could play critical roles in eliminating the amount of garbage that is being deposited at the Sanitary Landfill…' but alas he never saw his way to implementing a plan to achieve this; he simply talked a good plan."
Mr Roberts continued: "Dr Minnis even promised to produce a comprehensive report to address this vexing problem at the landfill. He said his comprehensive report indicated that at least 40 per cent of the garbage within the Bahamas can be recycled and another 15-20 per cent of that garbage can be mulched…but alas he never saw his way to establishing this programme to address this problem when he sat around the Cabinet table with the authority to make executive decisions to positively impact the lives of many families in the southwest corridor of New Providence."
In a statement yesterday, Mr Roberts also renewed his accusations of conflict of interest over Dr Minnis' company having a contract with the Public Hospitals Authority while the FNM leader was the minister of health.
Dr Minnis' company, Leechez Investments Ltd, was awarded a two-year contract with the PHA to rent its Stat Care building in 2005, before he entered politics. However, the arrangement was continued on a month-to-month basis while he served as minister of health from 2007-2012, and is reportedly continuing.
Dr Minnis has said he told the PHA to move its building after advice from former Prime Minister Hubert Ingraham, however the agency never did. Dr Minnis did not declare the contract when he registered as a candidate in the 2007 general election, but has maintained that he declared his interests in the company after he was elected to office.
Mr Roberts said: "Minnis' record of failure is clear: he never formulated a plan for National Health Insurance and he never formulated a plan to address the environmental and health issues connected with the New Providence Landfill.
"Dr Minnis does not represent the change the Bahamian people need," he said.
"From all data available to us, he is a failed leader and a failed Cabinet minister who talks a good game, but fails to deliver. He is not new or fresh – he has been at the Cabinet table and has been confronted with governance challenges and has failed over and over again."