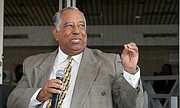 By KHRISNA VIRGIL
Deputy Chief Reporter
kvirgil@tribunemedia.net
FORMER Cabinet minister Tennyson Wells yesterday said Democratic National Alliance Leader Branville McCartney's ego has been to the detriment of his party, as he predicted an abysmal performance by the DNA in the upcoming general election.
Mr Wells, who resigned from the Free National Movement in 1999 and became an independent candidate, said he didn't expect the DNA to get more than 5,000 votes, while insisting that the third party has failed to identify with the electorate in the Family Islands.
Mr Wells added that he agreed with the assessments of both FNM Leader Dr Hubert Minnis and Official Opposition Leader Loretta Butler-Turner, which suggest that Mr McCartney is difficult to work with.
"I agree with Minnis' assessment of him and apparently Loretta has the same assessment," Mr Wells told The Tribune when he was contacted. "If the DNA gets 5,000 votes this time around they are lucky.
"That party's only presence is in New Providence. They have none in the Family Islands. If you look at the seats he demanded of the FNM, if he was serious he would say let's do some seats in the Family Islands and some in Nassau.
"If he had a presence there that he thought was tenable, he would have asked for some seats in the Family Islands. He knows he has no presence there.
"So why should the people in Nassau vote for the DNA when he has no presence elsewhere?"
Asked what he believed has changed with the DNA since 2012, when the new party got around 10,000 votes in the last election, Mr Wells said Mr McCartney's ego has ballooned.
"He has a very big ego and his mind and intellect doesn't match that ego of his. Many people have realised that."
On Tuesday night, Dr Minnis revealed to party supporters that Mr McCartney made extreme demands during coalition talks, saying he wanted 16 seats uncontested and that there be an agreement that should the DNA be successful, the third party would choose the Cabinet, name the prime minister and also select ambassadors.
Dr Minnis said Mr McCartney demanded that the FNM not contest the Bamboo Town, Seabreeze, Garden Hills, Carmichael, Golden Isles, Southern Shores, Marathon, Elizabeth, Pinewood, Fox Hill, Golden Gates, North Abaco, Central and South Abaco, Marco City, Yamacraw constituencies as well as St Thomas More – if that one was reintroduced.
Dr Minnis said he was not prepared to "give away" the FNM or pander to "oversized egos" and blamed Mr McCartney for enabling the Progressive Liberal Party to win the 2012 general election, "causing pain and suffering" over the last five years.
This week, the former Bamboo Town MP denied this and said Dr Minnis "needs some medication" for making his "untrue" claims. He added that these claims were proof that Dr Minnis is not only "clearly obsessed" with the DNA, but also that he sees the former Bamboo Town MP as "his biggest threat" heading into the next general election.
Charging that Dr Minnis' claims were an "indictment" on his leadership, Mr McCartney suggested that the Killarney MP instead "ought to be insecure" about the potential threat to his leadership by former deputy prime minister and FNM St Anne's candidate Brent Symonette.
This follows Mr McCartney's resignation as leader of opposition business in the Senate earlier this month, a post to which Mrs Butler-Turner appointed him in December after she became leader of the Official Opposition. Her appointment to the post was the direct result of the "rebel seven" sending a letter of no confidence in Dr Minnis to Governor General Dame Marguerite Pindling.
On Wednesday, Mrs Butler-Turner told the press that Dr Minnis' revelation on the breakdown of talks over a coalition between the FNM and Mr McCartney was an opportunity for the public to read between the lines and decide who was telling the truth and who was just perpetrating a "falsehood".