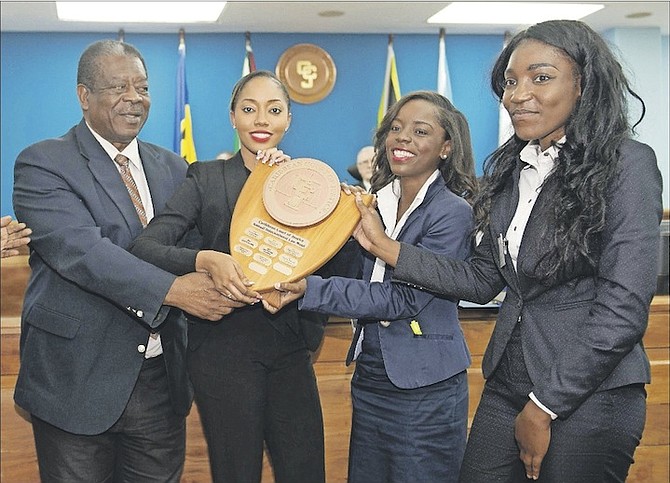 FOR the fifth time in nine years of the competition, the Eugene Dupuch Law School has won the Caribbean Court of Justice's (CCJ) annual International Law Moot Court Competition.
The Bahamian team of lead advocate Janessa Murray, junior advocate Raven Rolle and research advocate Megan Curry triumphed last week at the CCJ, in Port of Spain, Trinidad and Tobago. Fittingly, the team - advised by Raquel Williams - claimed victory in the week of International Women's Day.
Eight teams representing law schools and law faculties from throughout the Caribbean participated, coming from the University of Technology (Jamaica); University of Guyana; University of the West Indies (St Augustine); University of the West Indies (Mona Campus); University of the West Indies (Cave Hill); Hugh Wooding Law School (Trinidad & Tobago); and Norman Manley Law School (Jamaica).
The CCJ's annual International Law Moot Court Competition was inaugurated in March, 2009, to encourage budding attorneys to become familiar with the Revised Treaty of Chaguaramas (RTC) and other areas of Community and International Law. The CCJ's Law Moot provides the law students with the opportunity to appear and present before the region's highest court on original jurisdiction matters.
This year's fictitious case dealt with issues surrounding the freedom of movement within the Caribbean region of a Belizean-based company with shareholders and employees of varying nationalities. Arguments were presented before a panel of CCJ Judges - Justices Nelson, Wit and Hayton.
Caribbean Court of Justice President Sir Dennis Byron spoke of the benefits of the moot. "The good news is that your delving into the inner workings of the RTC and thrashing out an Original Jurisdiction matter before this very CCJ does more than provide you with an opportunity to hone your adversarial skills," he told the particpants. "Through the very process of your investment and your praxis, the Court itself is imbued with a greater strengthening of its ethos, of its armour, of its structure and is better fortified assuring that leadership role."
The Court Judges and spectators were impressed by the submissions and presentations of each team and Justice Nelson commented "these submissions indicate that Caribbean region is in good hands".
Second place went to the Norman Manley Law School with the University of the West Indies, Cave Hill Campus, taking the title of "Best Academic Institution".
Among the observers of the competition were Justice Ivor Archie, Chief Justice of Trinidad and Tobago; Justice Desiree Bernard, former Judge of the CCJ; Anthony D J Gafoor, Chairman of the Tax Appeal Board; Kusha Haraksingh, Chairman of the CARICOM Competition Commission; Reginald Armour, President of the Trinidad and Tobago Law Association; and members of the diplomatic corps representing the United Kingdom, the European Union, Mexico, Jamaica, South Africa and Suriname.
Assisting with the proceedings were first-year law students of the University of the West Indies, St Augustine Campus.