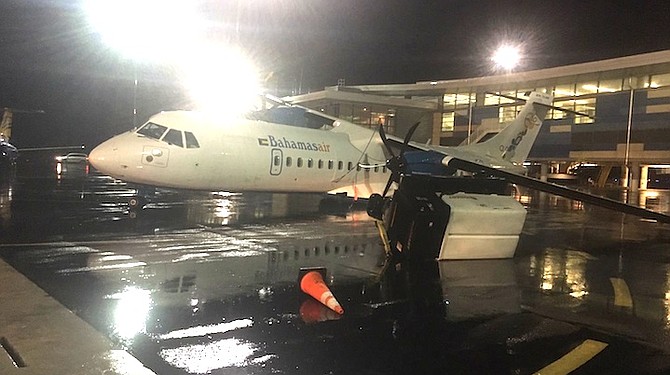 http://youtu.be/ojR4c_eu7Xw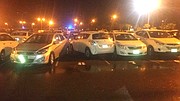 By SANCHESKA DORSETT
Tribune Staff Reporter
sdorsett@tribunemedia.net
A TORNADO at the Lynden Pindling International Airport early yesterday morning caused significant damage to a Bahamasair plane and minor damage to several cars at a nearby car rental agency.
According to Basil Dean, Deputy Director at the Department of Meteorology, the tornado formed from an isolated cumulonimbus cloud in the vicinity of LPIA around 5am.
Mr Dean said pre-frontal showers and thunderstorms moved across the northwest Bahamas during the early hours resulting in light rains and strong gusty winds at LPIA.
When asked why the Met Office did not send a severe weather warning prior to the storm, Mr Dean said the tornado formed "rather quickly" and was not detectable beforehand.
"This happened in an isolated area of the airport," Mr Dean told The Tribune, "a small, confined area. If you notice, other parts of the airport were untouched. So this storm formed rather quickly and was not detectable at the time."
He said the rain started around 4.10am and lasted for about 50 minutes. The tornadic activity was limited to the LPIA and caused minor damage.
"The following damage was observed; rental vehicles were completely moved from their designed parking slot resulting in damage to the doors, fenders and light casing. There was also wind damage to the roof of a ticket booth in the eastern car parking lot," Mr Dean said.
"A Bahamasair aircraft was also rocked off its landing gear and there were some broken tree branches. The wind damage observed are more consistent with an F0 tornado, which could have formed from an isolated cumulonimbus cloud in the vicinity of LPIA. 
"A typical F0 Tornado is associated with wind speeds between 40 to 70mph, an average damage path of 10 to 50 metres, damage to tree branches, trees broken off and sign board damage, which are consistent with the damage observed at LPIA."
The strong winds, according to Bahamasair Chairman Valentine Grimes, knocked a $20 million ATR 70-seat plane off its landing gear, causing the plane to nose dive into the ground. He said Bahamasair contacted the manufacturer and technicians and engineers are on their way to the Bahamas to access the damage.
He said while flights will have to be shifted, things are relatively slow meaning there will be no significant delays.
"We are not in a high demand period but we will see what happens once we get into the Easter season," Mr Grimes said.
"It is only one of two 70-seaters we have and we did discuss adding a third plane to the fleet because the size of the airplane is a tremendous help to us. It will affect our services but we will be able to manage it without any hiccups."
The tornado also caused cosmetic damage to the airport. However, officials from the Nassau Airport Development Company (NAD) said operations were not affected and passengers were able to check in and leave as normal. Parts of the LPIA also experienced brief power outages.
"There was damage to several vehicles in LPIA's parking facility, vegetation and the roof of the domestic parking lot pay booth suffered some damage," an NAD statement said.