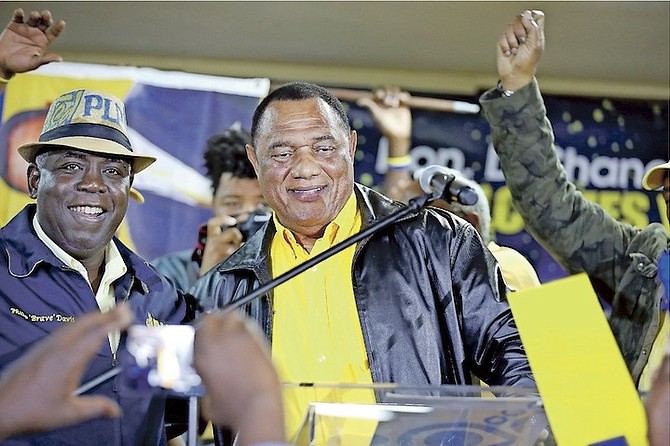 By RICARDO WELLS
Tribune Staff Reporter
rwells@tribunemedia.net
PRIME Minister Perry Christie berated Free National Movement Leader (FNM) Dr Hubert Minnis over his noticeable absence from the House of Assembly on Wednesday, telling a crowd of Progressive Liberal Party (PLP) supporters last night that the Killarney MP has opted to hide behind social media in the wake of yet another massive error in his leadership tenure.
In his address at the latest in series of campaign community forums put on by the PLP at SC McPherson junior high school, Mr Christie claimed that his opponent has now resorted to avoiding public appearances out of fear that the focused attention would reveal his inability to formulate quality ideas to move the country forward.
The Centreville MP in his extended scolding of Dr Minnis, challenged the former Official Opposition Leader to show up to Parliament, stand up as a man and face the public concerning his recent comments on the sale of Baha Mar.
Dr Minnis' absence from the House of Assembly this week was highlighted by Fort Charlotte MP Dr Andre Rollins, who at the time urged Mr Christie to "call out" Dr Minnis on his inadequate performance.
On Sunday, in a statement posted to his Facebook page, Dr Minnis said his party would "engage and execute a real sale of Baha Mar to a qualified and respectable purchaser who believes in Bahamians; a purchaser who will utilise only Bahamian labour to complete the resort, and will put Bahamians back to work with real jobs as quickly as possible." The next day, Dr Minnis added that if the Baha Mar deal does not stand up to public scrutiny, his party reserves the right "to not approve any sale that is not in the best interest of the Bahamian people".
In response last night, Mr Christie said to resounding applause: "He has senators resigning all over the place. He has candidates that were ratified and unratified and maybe he feels as if Facebook is good place for him to hide." Mr Christie said he has fought through several electoral campaigns against former Prime Minister Hubert Ingraham, during which the former North Abaco representative earned his respect and admiration.
He said it was time for Dr Minnis to earn the respect of both him and the Bahamian electorate. "To be able to man up to the weaknesses, and to acknowledge his weaknesses. And I am not just talking about personal weaknesses, I am talking about the weaknesses of his organisation.
"Even when he decides that he is going to make these statements from long range, he's still making mistakes, and sometimes, big mistakes. He put out some big statements about Baha Mar earlier this week, but he did not show up to defend those statements. I put some information in my back pocket, I know I had to travel for a Customs graduation in Freeport. I say just in case he comes, I wanted to see whether the Speaker would allow me through the argument of relevance to allow me to speak to him about that big mistake he made.
The Prime Minister added: "But he knows, he ain't coming to me. He will hide. But we have a couple of more meetings left, and I invite him to come out. I don't want him to duck and hide. Tell him come to Parliament where he could bob and weave; but don't duck and hide. Not if he wants the people of this country to see him as a leader that they can (place) confidence in."
Mr Christie is the third member of PLP to take Dr Minnis to task over his Baha Mar pledge. Deputy Prime Minister Philip Davis lashed out at Dr Minnis' pledge, accusing him of plotting for the resort's demise for political benefit while spouting untruths. Additionally, Tall Pines MP Leslie Miller also took aim at Dr Minnis over the issue, saying while the Killarney MP is his friend, he is "not the smartest man on two legs".
Moreover, Mr Miller continued his attack on Dr Minnis last night, using the platform to suggest that a vote for the FNM Leader as the country's next Prime Minister would result in another internal fight to unseat him. Mr Miller, who has gone on the record on several occasions as a close friend of Dr Minnis, last night said he was of the view that if elected, Dr Minnis would be "run out" as Prime Minister by the likes of Brent Symonette, Marvin Dames, Dionisio D'Aguilar and Jeff Lloyd.
He added that Dr Minnis was "run out" from a minor role, insisting that if placed in the highest position of power, the wolves will hunt him.