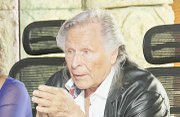 By LAMECH JOHNSON
Tribune Staff Reporter
ljohnson@tribunemedia.net
A NEW recusal bid by Canadian fashion-mogul Peter Nygard will not be heard or considered until a formal application is lodged, a judge presiding over judicial reviews concerning the alleged illegal expansion of his western New Providence property said yesterday.
Before Justice Rhonda Bain, Nygard's lawyer, Damian Gomez, QC, drew to the court's attention that a notice of motion for recusal was being filed subsequent to a letter which was sent to the court last week asking the judge to recuse herself from the legal proceedings before her.
"It may be prudent to first hear the application before embarking on the judicial review as they do affect the property of Mr Nygard," Mr Gomez said.
Fred Smith, QC, and lead lawyer for lead counsel for Save The Bays in the ongoing judicial review applications, dubbed the latest intended application "an abuse of process of the court".
"It is an abuse of the court process for Mr Nygard at this stage to be mounting a fresh recusal motion against this court. Where much, if not all, referenced in the preview letter has been known to him for years. It follows a recusal by Keod Smith, then Nygard, then the Prime Minister. This court is not to be buffeted by serial recusal applications," Mr Smith stressed.
Mr Smith added that if Nygard wished to make an application of perceived bias, he could do so during the trial. "He cannot seek to ambush and derail efforts to progress these judicial review proceedings when we're at trial," the STB lawyer noted.
"This court is not a ping-pong to be bounced back and forth between Keod Smith, Peter Nygard and the Prime Minister. This is an abuse of process."
Robert Adams, in agreement, said the recusal should not be heard until a formal application was lodged.
Justice Bain told Mr Gomez: "When I have your applicant in hand, I'll deal with it."
Save The Bays' battle with Mr Nygard over the construction/development activities at his Lyford Cay home stem from allegations that the activities have led to substantial growth of the property.
The group claims Mr Nygard has almost doubled the size of his property, from 3.25 acres to 6.1 acres, since he acquired it in 1984, by allegedly reclaiming Crown land from the sea. The advocacy group has alleged that Mr Nygard achieved this without the necessary permits and approvals, claims that have been denied by the fashion designer.
In 2015, Justice Bain was asked to recuse herself from committal proceedings involving Mr Nygard through a notice of motion filed in the Supreme Court by his former lawyer on the grounds of bias. However, in January, 2016, Justice Bain said Mr Nygard had not proved there was evidence of bias or apparent bias towards him and found the accusations to be "scandalous".
The Court of Appeal, six months later, affirmed Justice Bain's rejection of the application in an appeal of the decision by the Lyford Cay resident.
In January, attorneys for Prime Minister Perry Christie, filed a motion to have Justice Rhonda Bain recuse herself from these cases, and from a fourth Judicial Review brought by 103 of Mr Nygard's Lyford Cay neighbours, on the basis that she is set to reach the legal age for retirement in April.
Justice Bain has filed an application for extension that would have to be authorised by the Governor General on the advice of the Prime Minister in consultation with the leader of the Official Opposition.
On February 7, Justice Bain ruled that Mr Christie's application had "no merit" and reminded him of the independence of the judiciary, stressing that the Chief Justice's role in deciding which judge hears a given case cannot be "usurped by the Prime Minister".
Mr Christie, in his capacity as Minister for Crown Lands, appears with several other senior officials and controversial developer Peter Nygard as a respondent in three Judicial Review cases brought by STB to challenge the environmentally destructive construction works that were allowed to take place at Nygard Cay over the past three decades.
Last week, the Prime Minister was refused leave to appeal Justice Bain's rejection of his recusal bid.
David Higgins, Clinton Clarke and Tommel Roker appeared for the Prime Minister and other government respondents in the judicial review yesterday.
Fred Smith, QC, Romauld Ferreira, Dawson Malone and Crispin Hall appeared for the Coalition to Protect Clifton Bay, now called Save the Bays.
John Minns and Robert Adams are legal counsel for the neighbours' action in this matter.