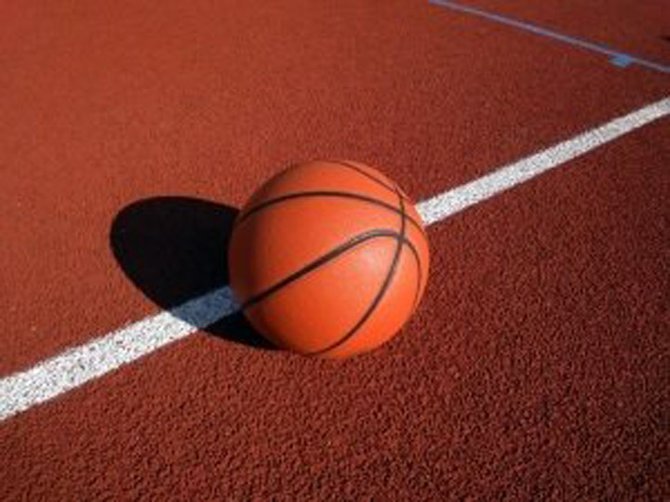 By RENALDO DORSETT
Sports Reporter
rdorsett@tribunemedia.net
JUNIOR national team standout and GSSSA MVP Dominic Bridgewater delivered another MVP performance and earned himself a scholarship opportunity while leading his team to a tournament title.
Bridgewater finished with 33 points in a 65-59 win for his Anatol Rodgers Timberwolves over the Noble Preparatory Spartans in the finale of the Spartans' Varsity Spring Classic at the Kendal Isaacs Gymnasium on Saturday.
For his effort, Bridgewater was named as the tournament's most valuable player (MVP), and was awarded the tournament's ultimate prize, a full athletic scholarship to Niagara College in Ontario, Canada. "This game meant a lot. Despite the fact that we didn't have our full team, we fought hard," said Bridgewater.
"These guys are like my brothers, so I know once I went out and gave it a strong effort, they were going to follow. I wasn't worried about points or personal stats, I just wanted to get this win for the guys. Our coach called us from away and told us to go out and finish our season strong. We won earlier in the year, and I'm glad we could close with a win."
Stephone Augustine led the Spartans with 28 points in the loss. "Our guys gave it a great effort. There were some things I would have like to seen done differently of course, but nonetheless, you can't take anything away from the game Anatol played," said Spartans head coach and tournament organizer Geno Bullard. "Bridgewater played a great game and showed that he is elite compared to his peers. Now with this opportunity, I hope he goes on to make the most of it and really gets after it in the classroom and on the court. That's what this tournament is all about, creating opportunities."
It was the second consecutive year NPA hosted one of its newest initiatives aimed at fostering the development of achievement both on the basketball court and in the classroom.
Twelve teams participated in this year's event including NPA, Anatol, CV Bethel, CC Sweeting,CR Walker, RMB Stars, Temple Christian, Westminster, Akhapharan, St. Anne's, Kingsway and St. John's. The tournament boasts an unprecedented award for its Most Valuable Player as they will qualify for a full scholarship to attend Niagara College in Ontario, Canada. When the event was first announced, Bullard said the invitational is intended to benefit our country's youth through basketball, with an emphasis on mentoring and promoting educational success. NPA has been able to provide over $200,000 in scholarships in five years and have transitioned an additional 167 students to Niagara College to obtain a college degree in seven years. In the inaugural edition of the tournament in 2016, NPA defeated the RM Bailey Pacers in the championship game. Kenneth Reckley was named the MVP after finishing with 16 points and 10 rebounds. Last year's tournament also included career planning sessions to assist players with life choices after basketball. Bullard said it is in keeping with the school's theme – "When the game ends and the glory fades, educated students will be the ultimate winner." "Basketball is the backdrop, but it's bigger than that and we want it to be more than just a tournament. We want to develop a true event that will enhance the players," Bullard said. "We have very talented basketball players but throughout the year we never bring these questions to the forefront and we never check them. What are the kids going to do once we concluded basketball season and once they graduate in June? We want everyone, the players and schools to be aware that once you come to NPA you are going to get quality basketball and you are going to get educational opportunities to find guidance. Come out and compete and through this effort we can foster a better relationship between our coaches and their players as it opens the dialogue to ensure their players are academically sound. We can play as many games as we want, but we have to open this dialogue. Maybe we can encourage other tournaments to do the same." In addition to being the founder and the president of the NPA, Bullard is also the international recruiter for the entire Caribbean region for Niagara College. NPA has academic ties with Ridley, Niagara and Brock University. Bahamian players have been integral in the programmes for both institutions. Several NPA alumni have benefitted from the programme and competed at high schools colleges and universities in Canada. Van Hutchinson Jr, Jordan Wilson and Kevin Cooper are currently members of the Niagara Knights' programme following the graduation of another Bahamian trio -Marako Lundy, Delroy Grandison and Tenero. Shamarr Burrows and Livingston Bromwell starred at Ridley College before moving on to the collegiate level.