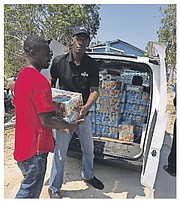 AFTER a fire devastated a Haitian shantytown west of Fire Trail Road and left some residents homeless last week, Aliv teamed up with local activist and radio personality Louby Georges to help bring some comfort to the community.
The blaze started shortly after 9pm last Wednesday and by early Thursday morning, the Aliv team had made its way to the shantytown in one of its mobile vans filled with necessities like bottles of water and juice, toilet paper and food supplies.
In a press release, Senior Aliv Partner Carl Momplaisir pointed out that giving back to the community and assisting those in need highlights the community-centred brand that Aliv is striving to build.
"It all ties in with what we try to do," said Mr Momplaisir. "We try to do as much as we can with what we have. The Haitian community has been very supportive to us and we want to give back to them as much as we can."
In the wake of the fire, Aliv employees were asked to bring donations of clothing to the company's Soldier Road headquarters. Aliv plans to give those clothes to children who lost their belongings as a result of that fire.
Aliv is the newest mobile network in The Bahamas. It was officially launched in November 2016.