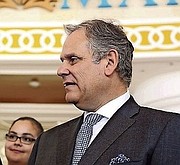 BAHA Mar's president has pushed back at "baseless" and "untrue" allegations contained in an open letter to the Gaming Board, which accused the resort's buyer of being allegedly associated with "international crime" organisations through its link to a Macau gaming group.
The allegations were put forth in a paid advertisement by "Bahamians who want a better Bahamas" in The Tribune yesterday and today. The letter asked the Gaming Board to take note of concerns about alleged "documented associations with international crime" and the owners of Chow Tai Fook Enterprises (CTFE), Baha Mar's buyer.
The Gaming Board is set to hold a hearing regarding a casino licence application by Sky Warrior Bahamas Ltd, a company created by CTFE. The open letter also questioned if any member of the Progressive Liberal Party has direct or indirect interest in Sky Warrior Bahamas.
In response, Graeme Davis has refuted the allegations. "The accusations presented in The Tribune on March 28, 2017 against Sky Warrior Bahamas Limited, Chow Tai Fook Enterprises (CTFE) and the Cheng family, being the owners of CTFE, are completely baseless and untrue," Mr Davis says in a statement published today in The Tribune.
"As president of Baha Mar, on behalf of CTFE, I would like to confirm CTFE's unwavering commitment to good governance in CTFE's global business operations. CTFE is widely recognised by our employees, customers, partners and other stakeholders for the integrity in how we do business and who we do business with.
"It is critical to understand the truth in the business relationship between the Cheng Family and CTFE with respect to the unfounded and false business accusations presented (Tuesday)."
Mr Davis' statement says CTFE does not operate casinos in Macau. However, he says an entity related to the group "is a minor and passive shareholder" in a company called STDM, which he said "operates casinos in Macau under legal gaming licenses".
"CTFE does not have any oversight, control, direct or indirect influence in SJM (a subsidiary of STDM) casinos," Mr Davis also says. "The additional accusations are false, without merit, and significant investigation into each allegation has been made by multiple worldwide gaming authorities.
" ... The CTFE company, Sky Warrior Bahamas Limited has applied for a gaming license and has undergone a rigorous application process. We have submitted all the required documents and disclosures requested by the Gaming Board, being fully cooperative in the process. Holding a gaming license is a privilege which requires complete transparency and integrity of our world class management team, our leadership at CTFE and the Cheng family."
Mr Davis adds that Baha Mar is committed to the country's development and has had more than 14,000 job applications to date. He says the resort's initial phase will generate more than 1,500 jobs for Bahamians and subsequent phases will bring that total to over 5,000 direct jobs.
This is not the first time concerns have been raised about an alleged link to organised crime and CTFE.
After similar allegations were made last year by former Baha Mar director Dionisio D'Aguilar, now the Free National Movement's candidate for Free Town, CTFE rejected claims of impropriety.