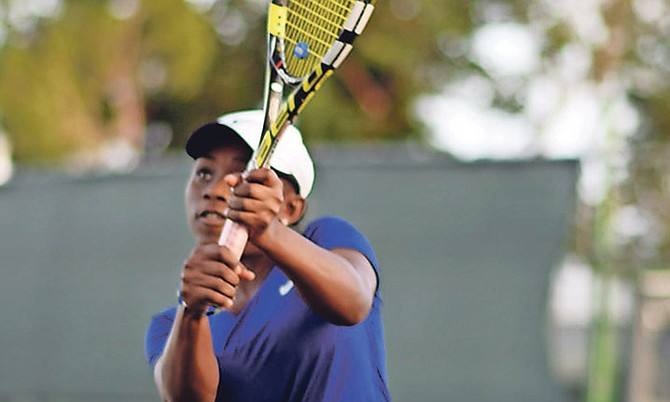 By RENALDO DORSETT
Sports Reporter
rdorsett@tribunemedia.net
The girls of the Junior Fed Cup continued their winning streak with their second consecutive match sweep in as many days and earned an opportunity to compete for the championship in the main draw.
Seeded No.3 in the draw at the Pre-Qualifying Junior Davis Cup and Junior Fed Cup event for the North/Central American and Caribbean, hosted in El Salvador, the Bahamian trio is led by Sydney Clarke (15) along with teammates, Elana Mackey (13) and Sydni Kerr (15).
Powered by Mackey and  Clarke, they scored a 3-0 win over Aruba in just six total sets yesterday.
Mackey opened play with a 6-1, 6-0 win over Aethielle Kelkboom followed by a Clarke win over Kayla Solagnier 6-0, 6-3. They paired up in doubles to defeat Kelkboom and Solagnier 6-3,6-3.
The team is coached by Bradley Bain.
"The girls now advance to the main draw in the final eight, we have a shot at the championship and I like our chances wherever we are. It's a toss up," he said. "We have some strong teams in Guatemala, El Salvador and Puerto Rico but I feel like we can play with them. We just need to win one of the singles. We have fairly good doubles teams with either combination so I like our chances in our first-round match, whomever it is."
The win over Aruba follows a 3-0 win over the US Virgin Islands on Tuesday.
Mackey opened play with a 6-1, 6-1 win over Natasha Messier.Clarke followed with a 6-0, 6-0 win over Lisa Messier.
Clarke and Kerr clinched the win in doubles with a 5-7, 6-2, 10-7 win over the Messier team. They completed play in Group C in second place with the opening day lost to the hosts as the only blemish on the win-loss record.
The boys in the Junior Davis Cup draw did not fare as well and will be relegated to the playoffs for the standings from 9-18.
The team includes Donte Armbrister (15), with teammates Kofi Denali (13),  and Denali Nottage (13)  both from Freeport, Grand Bahama. They are seeded No. 5 and are coached by Ricardo Demeritte. The team suffered a 2-1 loss to Barbados yesterday.
Nottage lost 0-6, 3-6 to Kaipo Marshall followed by Armbrister's 6-2, 6-4 win over Romani Mayers.
In doubles play Armbrister and Bowe won 3-6, 4-6.
The Bahamas won its opening day match against Nicaragua 2-1.
According to its website, the Junior Fed Cup and Junior Davis Cup by BNP Paribas were launched by the ITF in 1985 as the 16-and-under World Youth Cup, and rebranded in 2002.
BNP Paribas has been the title sponsor of the Junior Davis Cup since 2002, before going on to sponsor Junior Fed Cup in 2005.
The finals have been held in 14 countries in the competition's 29-year history.
Participating nations include the  Bahamas, Barbados, Nicaragua, Aruba, Dominican Republic, Panama, Puerto Rico, Bermuda, Jamaica, Guatemala, Grenada, Honduras, Trinidad & Tobago, El Salvador, Curacao, Costa Rica, Guyana, and the US Virgin Islands
A total of 18 countries are participating in the Junior Davis Cup event and 15 for the Junior Fed Cup event.