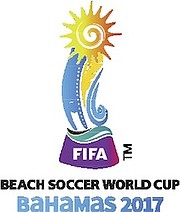 By RENALDO DORSETT
Sports Reporter
rdorsett@tribunemedia.net
THE FIFA Beach Soccer World Cup 2017 has thrust the Bahamas into the spotlight as the hub of beach soccer in the region and the international governing body of the sport looks toward further development.
FIFA President, Gianni Infantino was on hand for the opening day of competition at the tournament and applauded the hosts for creating an ideal atmosphere for the game.
"I'm very excited to be here in the Bahamas for this Beach Soccer World Cup. It's great fun, it is a great atmosphere and what the players have presented on the pitch has been world class. Technically, physically, it's been great fun," he said, "We can see that not only in football, but in beach soccer the play has been going up. The level of play has increased so that maybe countries that do not have such a rich history, they train, they take themselves seriously and you see the result."
In addition to the Bahamas, teams participating include Switzerland; Ecuador; Senegal; Nigeria; Italy; Mexico; Paraguay; Portugal; Panama; Brazil; Tahiti; Poland; United Arab Emirates; Iran and Japan.
Portugal hosted the 2015 edition of the Beach Soccer World Cup and took home the tournament trophy in their role as hosts.
This is first time that the World Cup has been hosted in a CONCACAF nation. Organisers for the biennial event said while each host destination has its own unique appeal, The Bahamas has attracted increased attention because of its atmosphere.
Infantino said witnessing the progression of the Bahamian team and the enthusiasm of its fan base shoes just how much the sport has developed.
"It is great to play this event here in the Bahamas because it's important for the young people, it's important for the whole region and it's important to show that both football and beach soccer can develop all over the world," he said following the Bahamas' 3-2 loss to Switzerland, "It was great to be here to witness that match because you get to see the enthusiasm of the people. They came out to support, they follow the sport and they have great passion. That's what we want to see in beach soccer, for people to come out, have fun and enjoy the sport. Here you have the sun, the sand, the beach and the always-smiling friendly people of the Bahamas who are absolutely fantastic."
Infantino was elected the 9th president of FIFA during the 2016 FIFA Extraordinary Congress on 26 February 2016. With his election, he became the first Italian to hold the Presidency of FIFA.
The final day of opening round play concludes tonight and quarter-finals play begins Thursday, May 4.