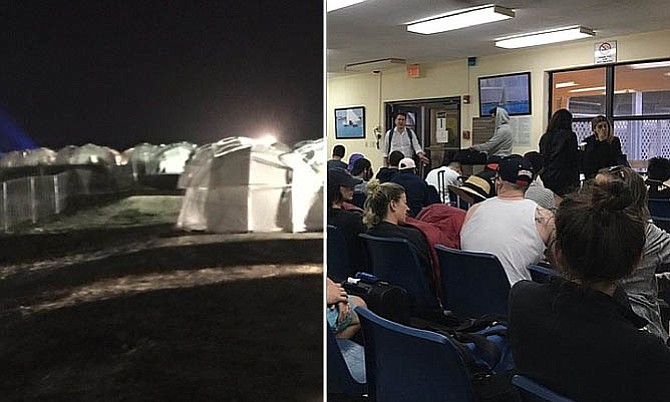 By KHRISNA VIRGIL
Deputy Chief Reporter
kvirgil@tribunemedia.net
WHILE the country's image has been "insulated" from any direct repercussions stemming from the failed Fyre Festival in Exuma over the weekend, Ministry of Tourism Director General Joy Jibrilu confirmed yesterday that officials were in the process of determining which local vendors are still owed money for services by event organisers.
However, she said Fyre Festival's international promoters have assured officials that all outstanding debts will be paid.
Mrs Jibrilu said while the Ministry of Tourism is still unaware of all the details surrounding this matter because it was a private event, a team was seeking to obtain a list of vendors who still had outstanding balances.
While officials have sought to distance the ministry from the failed event, in early April a press release was issued saying the Ministry of Tourism was "working tirelessly" to ensure the festival's success.
In that earlier release, Carla Stuart, senior director of national planning and special events in the Ministry of Tourism, noted that the ministry was a partner for the festival and served as a liaison between the organisers and various government and local entities on the island.
"Our goal is to work with the organisers to ensure that the festival meets all of the local standards in safety, security, environmental, etc. We will also ensure that all local approvals required to coordinate a successful event of this magnitude are secured. Of course, ultimately, with a minimum of 3,000 persons on the island, we would wish to work together with the community to provide greater opportunities and ensure maximum benefit for locals. Exuma and its residents are jewels, and event organizers will have an opportunity to explore the same," Ms Stuart noted in the April press release.
Officials have struck a different tone since the event's collapse.
"Ministry of Tourism is currently in the process of determining which vendors are still owed monies," Mrs Jibrilu said via email in response to questions from The Tribune. "Please recognise that this was a private event and therefore we are not aware of all the details. Our teams are seeking to get a list of who is owed and what they are owed. The promoter has assured that they will pay all outstanding debts."
Her statement to The Tribune came amid reports that the Bahamas Customs Department reportedly locked down the site in Exuma where the disastrous festival was scheduled to take place.
According to a report aired on ABC News yesterday, security guards were seen on site in an effort to protect items that remain there.
The Ministry of Tourism told ABC: "Customs has the area on lockdown because (festival organiser) Billy (McFarland) has not paid customs duty taxes on the items that he imported (for the event)."
"He and his staff have left the items with a security company guarding it."
Organisers were said to have imported many items and used the services of numerous local vendors in an effort to ready the island for the luxury concert with tickets costing up to $12,000.
It was branded a disaster and postponed indefinitely amid a host of complaints that the infrastructure and accommodations were not ready and that there was no security. Flights were also cancelled as a result of the crumbling of the event, leaving passengers stranded.
It led American recording artist 'Ja Rule', a co-organiser to respond, telling this newspaper he was "mortified" and "heartbroken" over the chaos.
Ja Rule lamented that he and his partner, Billy McFarland, a tech entrepreneur, pumped $20 million into the event, and "everyone hates us for it."
Yesterday Mrs Jibrilu said once the ministry became aware of the event's shortcomings, officials intervened to mitigate the fallout as much as possible.
She said: "The Ministry of Tourism jealousy guards our brand image. As a result, we have been following every story, lead, as well as interviewing festival attendees in order to get as many viewpoints as possible.
"The organisers of the event, which was a private event, have readily admitted that they were in over their heads, and they have taken full responsibility for all that has transpired, and have issued a statement to this effect. It is also pertinent to note that the international media have recognised that all and any shortcomings came from the promoters, and the Bahamas has been insulated from any direct negative repercussions. The Ministry of Tourism has been actively engaged with our international media partners in ensuring that the integrity of the Bahamas is maintained."
She continued: "It should be noted that even though this was a private event, once the MOT became aware of event shortcomings, they did intervene to mitigate as much as possible any fallout, and in particular to try and secure the welfare of visitors that came in for the event. We have received commendation from both the promoters and guests over our efforts in this regard."
Chaos
Headline performers and the Ministry of Tourism offered a "heartfelt apology" in expressing its disappointment for the "total disorganisation and chaos."
The ministry, while saying it was not an official sponsor of the private event, said it was lending its support to help with the safe return of all Fyre Festival visitors.
On Friday morning, it was reported that flights were returning visitors to Miami. Exuma was busy over the weekend, with the national Family Islands regatta in George Town, which is the biggest annual event on the island normally attracting tens of thousands of visitors.
The organisers cancelled the Fyre Fest event at the last minute after many people had already arrived and spent thousands of dollars on tickets and travel.
The organisers promised a "cultural moment created from a blend of music, art and food" over the next two weekends in Great Exuma.
They also claimed they set out "to provide a once-in-a-lifetime musical experience on the Islands of the Exumas" and had billed it along the lines of the Coachella Valley Music and Arts Festival in southern California.
In a statement on its website last Thursday night the event organisers said: "Due to circumstances out of our control, the physical infrastructure was not in place on time and we are unable to fulfil on that vision safely and enjoyably for our guests. At this time, we are working tirelessly to get flights scheduled and get everyone off of Great Exuma and home safely as quickly as we can.
"We ask that guests currently on-island do not make their own arrangements to get to the airport as we are coordinating those plans. We are working to place everyone on complimentary charters back to Miami today; this process has commenced and the safety and comfort of our guests is our top priority.
"The festival is being postponed until we can further assess if and when we are able to create the high-quality experience we envisioned. We ask for everyone's patience and cooperation during this difficult time as we work as quickly and safely as we can to remedy this unforeseeable situation.
"We will continue to provide regular updates via email to our guests and via our official social media channels as they become available," the statement added.
Tickets included a flight from Miami, a stay in a "geodesic dome" and activities including yoga and kayaking. Pre-publicity suggested festival-goers could pay up to $100,000 to mingle with models and be ferried around by private yachts and planes.
But visitors described the event as a "complete disaster" and it attracted unflattering international media coverage. William Finley, of North Carolina, posted on social media that he and his friends had arrived to find "disaster tent city" when searching for their accommodation. One British visitor said the festival site "was worse than a refugee camp."
There were also complaints of missing luggage, unsatisfactory catered food, fears for people's safety, piles of garbage and looting of alcohol.
Blink-182, one band that was set to perform, pulled out on Thursday. In a Twitter post the band said: "Regrettably, and after much consideration, we want to let you know that we won't be performing at Fyre Fest in the Bahamas this weekend. We're not confident that we would have what we need to give you the qualify of performances we always give our fans."
International artists such as Migos, Major Lazer, Skepta and Disclosure were also set to perform.