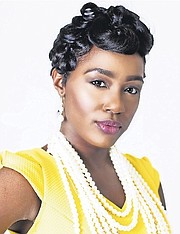 The multifaceted Carlisa Belle, BBA 2013, crunches numbers by day and pens words of hope and inspiration by night. She's creative and cerebral at the same time; able to use her time and talents to encourage others.  
As a proud alumna, Carlisa reflected fondly on her time at University of the Bahamas (UB), where she pursued a Bachelors of Business Administration in Economics and Finance. She was an active member of the Student Christian Movement and a New Student Orientation guide.
While at UB, real world experiences opened several doors for her within the financial arena. 
"I had the chance to attend very informative lectures including one that still resonates with me, it was the Economics of Liberty Student Lecture Series. Thanks to UB in 2013, upon completing the Association of International Banks and Trusts Companies (AIBT) summer internship programme I was offered a permanent position, securing full-time employment before graduation," she said. "I'm very grateful for the experiences and skills gained while there which I currently use on the job."
Ms Belle currently works at the Central Bank of the Bahamas as a senior payments assistant in the research department. Additionally, she is an active member of Epic Church Bahamas and community activist.  
"Writing a poetry book was a dream of mine since the ninth grade. I decided to pen my struggles and thoughts as a way to encourage others, especially young people," she said.
She recently published her first book, 'When My Heart Speaks', a collection of poetry inspired by her life. The common thread of the introspective paperback is God. For Ms Belle, her faith and hope in God continues to carry her through life's most challenging moments.
"No matter how dark the situation, one can always find hope. I want the persons reading it to be encouraged, knowing they can overcome whatever life throws at them," she said. 
As a dancer and actress, she uses the arts to express herself. "Whether it is dance, poetry written, spoken word, drama or music, they all can be used to spread a message of love and unity," she said.
Ms Belle strives to demonstrate how freedom and joy is unleashed when people let go of the past, find purpose and pursue their dreams.