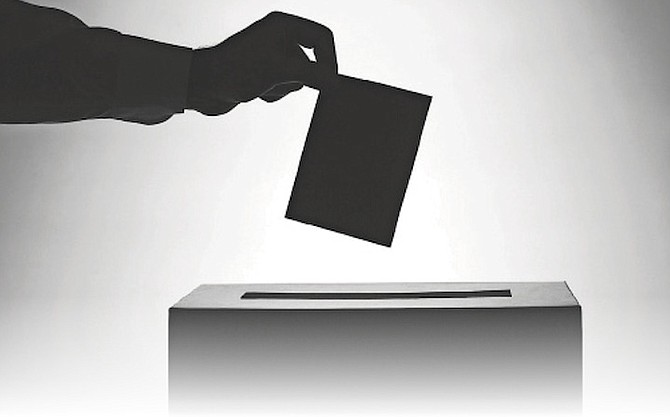 By KHRISNA VIRGIL
Deputy Chief Reporter
kvirgil@tribunemedia.net
DESPITE Parliamentary Commissioner Sherlyn Hall's assertion that voting went "well" at all of the oversees advanced polling stations, Bahamians studying in Barbados told The Tribune yesterday that their experience seemed to follow the same "chaotic" and "discouraging" nature of the vote on Wednesday in the capital.
One first-time voter and student of the University of the West Indies (UWI) in Barbados said she was forced to return to vote for a second time yesterday after turning out to vote on Wednesday, but was told that there were no more ballots available.
The young Bahamians, who requested anonymity, said there were several other students from various constituencies including Marco City, East Grand Bahama, Seabreeze, Free Town and Exuma who were also turned away for the same reason. Considering that some students had to travel for about one hour and 30 minutes to reach the polling station, this was unacceptable, the students said.
The chaos and disorganisation coupled with "blatant" disrespect from the presiding officer, the students claimed, caused many not to return yesterday to vote. They further claimed that this official was unaccommodating, saying she at times gave the impression that she would not hold the poll open until 6pm as the Parliamentary Elections Act dictates.
There were also some voters who were made to use protest ballots as officials said they did not submit the needed documents, including Form J, to qualify for advanced polling, the students claimed.
During a press conference at the Parliamentary Registration Department yesterday, Mr Hall confirmed that he received reports that there were some students whose names did not appear on the register who claimed that they presented Form J.
However, he said, officials in New Providence would have to investigate whether the forms were presented within the required timeframe.
"(The presiding officer) contacted me this morning (yesterday) and told me to be at the polls for 12 o'clock," one student said.
"When I arrived no one was there. We called, she hung up the phone. She finally came at about 12.30pm and said the ballots were on their way and that the government was sending a jet from New Providence. She asked us to sit and be reasonable and wait.
"But the issue was that a lot of us had examinations and so we were telling her that there were some students who were actually here at 12 noon. She gave us the impression that we would have been able to vote from 12 o'clock and a lot of them were telling her that you know we had exams from 1pm and various other times today.
"So she told us that there was nothing that she could do and the government is doing us a favour and we have to be reasonable. Some students had to leave for their exams and we were asking her what position would that leave them in because obviously if I am taking an exam I can't vote at the same time."
The student added: "But still the presiding officer continued to give the impression that it's your choice whether you are going to vote or take your exam and we said to her well the Parliamentary (Elections) Act says that the polls supposed to be open until 6pm.

"Her response was 'well I told y'all to be here for 12pm its up to you and it's your choice whether you are going to sit the exam.'"
The student continued: "Some waited, some stood in the line with our textbooks in one hand and voter's cards in the other because we understand the severity of this general election and we just wish that our rights would have been taken more seriously than they were.
"The whole thing was just chaotic. There was just no compassion, no consideration for those of us taking examinations and they were very, very disrespectful. It was just very discouraging for a lot of us who are first time voters like myself and overall there were a lot of students that didn't come back to vote."
A male student said there were at times an "uproar" over the presiding officer's attitude and her failure to adequately explain to voters why certain things were happening as the process went on.
"We still weren't able to vote until at around 2.34pm," the student said.
"A few students had a problem with registration because some of us would have registered in April when one of the officers came down so we would have had a J form done. Yesterday some students were told that their names were not on the register so they would have had to vote with yellow ballots. A lot of students were angry because they didn't want to use the protest ballots so that was more confusion."
Mr Hall said preliminary reports based on the J forms received from various locations indicated there were 13 locations in total. He said London, England had 70 overseas voters, Ottawa, Canada had 30 and Washington, DC had 70.
New York had 47 oversees voters, Atlanta, 107, Miami, 135, Cuba, 10, Haiti, six, China 33, Jamaica 108, Barbados 88, Trinidad and Tobago 37, and Texas, 28.
However, he said, he was still waiting to receive information for some locations.
"Now, of those totals, I'm still awaiting contact with them. In Washington for example, out of 70 persons 43 voted. Atlanta, out of 107 persons 40 voted. Cuba, out of 10 persons eight voted. I haven't gotten feedback yet from China and the others. Out of Texas 28 voters, 25 voted. So that's the sort of stats we got back," Mr Hall said.
Taking into account the chaos that erupted at the Kendal Isaacs Gymnasium in New Providence, it was speculated that the various polling stations abroad would have been similar to the scene in Nassau.
In Nassau, voting began more than hour behind schedule and ballot boxes arrived to the site late.
There was only one polling station, even though the Parliamentary Registration Department announced that two locations would be open.
Many stood in line from as early as 6.30am and were disheartened by the disorganisation and long queues.