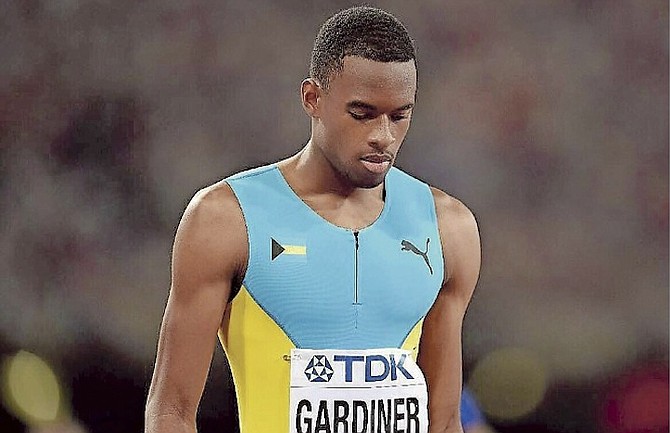 By BRENT STUBBS
Senior Sports Reporter
bstubbs@tribunemedia.net
MEN'S national 400 metre record holder Steven Gardiner said Friday's IAAF Diamond League victory was just an indication of what to come from him this year.
At the Doha 2017 in Qatar, Gardiner made up the stagger on American LaShawn Merritt through the first 250m. In the final 150m, he pulled away to take the tape in 44.60 seconds.
"I just went out there and did what my coach told me to do," Gardiner said. "I got out and I was able to finish it off strong, so it was really good."
The 21-year-old Gardiner left Merritt, the 2008 Olympic and 2009 world champion, trying to close in the gap on the home stretch, but he faded down the stretch to finish in 44.76 followed by fellow American Tony McQuay in 44.92.
"I knew what he was going to run, so I just had to go out there and focus on me," said Gardiner, who trailed in lane three to Merritt, who was in four.  "I just wanted to run my own race and not worry about anybody else. That was my plan and it worked for me."
The 6-foot, 2-inch native of Abaco fell short of his world-leading and new record time of 44.36 that he ran at the inaugural Grenada Invitational in the B final last month.
But he was happy with his effort.
"It was pretty good. It's the best start I've ever had, so I just have to continue to work hard and stay healthy," he said. "I know that I can go out there and run some pretty good times this year."
His agent, Caude Bryan, chief executive officer of On Track Management, couldn't agree more.
"He is doing very well so far and is on schedule as it relates to 2017 expectations," he said. "Given his youth in chronological and athletics age he was brought along patiently by George Cleare and now his new coach Gary Evans is doing an excellent job in marshalling his talent."
Now training in Clermont, Florida, Gardiner said the hard work is paying off and he's confident in himself that once he takes the lead, he doesn't anticipate anyone catching him.
And although it's a long season ahead of him to keep his winning streak going, Gardiner said he's just as eager as everybody to prove that he's capable of running the rounds and advancing through in a major event like the IAF World Championships coming up in London, England in August.
"I feel good. Practice has been great, so I know I can make it through the rounds," he insisted. "I just have to go out there and do it."
Gardiner thanked all of his supporters for the encouragement he's gotten and he expressed his gratitude for it. He assured them that he's going to go out there and make the Bahamas proud this year.
Also at the meet, DonaldThomas, the 2007 world champion, picked up a third place finish in the men's high jump with a season's best of 2.29 metres (7ft 6in).
Mutaz Essa Barshim, Qatar's Olympic 2016 silver and 2012 bronze medallist, won the event before the home crowd with a height of 2.36m (7ft 83/4in).
Barshim held off a strong challenge from Great Britain's Robbie Grabarz, who cleared 2.31m (7ft 7in) for second place. Grabarz won the 2012 Olympic bronze medal.
Gardiner will be back in action in June when he competes in Boston.
As for Olympic women's 400m champion Shaunae MilleUibo, who is also managed by Bryan, she will open her Diamond League in Shanghai this weekend. She is scheduled to line up against American Natasha Hastings and Jamaicans Novlene Williams-Mills, Stephanie Ann McPherson and Anneisha McLaughlin-Whilby.
And Thomas is also expected to renew the showdown from Qtar when he compete against Barshim and Grabarz, as well as Canadian Derek Drouin, American Erik Kynard and China's Yu Wang and Guowel Zhang.