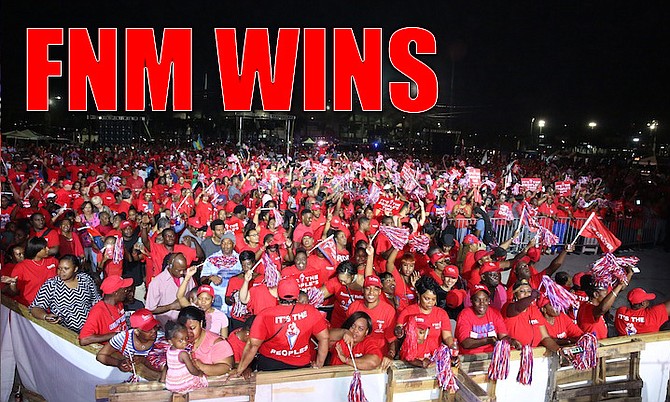 12.40: That brings an end to our live coverage of the election results. Don't miss Thursday's Tribune for all the news and reaction from a dramatic election day.
12.30am: As it stands, the unofficial results have the FNM on nine seats, the PLP on one, with none for the DNA or Independents. However, the FNM is projecting their victory will be by 34 seats to five.
The unofficial results have seen victories for the FNM from Reece Chipman (Centreville), Brensil Rolle (Garden Hills), Jeffrey Lloyd (South Beach), Desmond Bannister (Carmichael), Shenendon Cartwright (St Barnabas), Peter Turnquest (East Grand Bahama), Frankie Campbell (Southern Shores), Adrian Gibson (Long Island) and Hank Johnson (Central & South Eleuthera).
Philip Davis is the unofficial winner of Cat Island, Rum Cay and San Salvador for the PLP, with Glenys Hanna Martin (Englerston), Picewell Forbes (Mangrove Cay and South Andros) and Chester Cooper (Exumas and Ragged Island) expected to follow. Fox Hill is believed to be facing a recount.
Other projected victories for the FNM are Travis Robinson (Bain and Grants Town), Renward Wells (Bamboo Town), Duane Sands (Elizabeth), Mark Humes (Fort Charlotte), Dionisio D'Aguilar (Free Town), Michael Foulkes (Golden Gates), Vaugn Miller (Golden Isles), Dr Hubert Minnis (Killarney), Romauld Ferreira (Marathon), Marvin Dames (Mount Moriah), Halson Moultrie (Nassau Village), Reuben Rahming (Pinewood), Lanisha Rolle (Seabreeze), Brent Symonette (St Anne's), Donald Saunders (Tall Pines), Elsworth Johnson (Yamacraw), James Albury (Central and South Abaco), Iram Lewis (Central Grand Bahama), Michael Pintard (Marco City), Miriam Emmanuel (MICAL), Darron Henfield (FNM), Carlton Bowleg Jr (North Andros and Berry Islands), Howard Mackey (North Eleuthera), Frederick McAlpine (Pineridge) and Pakesia Parker-Edgecombe (West Grand Bahama and Bimini).
11.10pm: The Centreville result with all divisions in: Perry Christie PLP 1,875 votes, Reece Chipman FNM 1,900, James Darling BCP 12, Lorraine Arthur IND 16, Frederick Sawyer IND 31, Celi Moss DNA 139, Harold Ward IND 6. So Prime Minister Perry Christie has lost his seat.
11.00pm: Dr Minnis says those who voted for a party other than the FNM "have nothing to fear" adding that "our founding fathers didn't believe in victimisation and neither do we". He says "we will not deny any Bahamian access to opportunity based on partisan politics."
But, he says, "those who abused positions of trust may have something to fear. We will give the Auditor General the money and tools he needs to find how the people's money was spent. And if there is evidence of criminality we will let the law take its course."
10.55pm: Dr Minnis says "As we go about the business of governing we ask for God's help. That he protect us from the sins of arrogance and greed. That he keeps us ever mindful that this new day is not about us, but about the people we have to serve. It's truly the people's time."
10.50pm: Prime Minister-elect Dr Hubert Minnis is now on stage at the FNM celebrations in the Carnival site. He says: "This was a long fought battle, but the victory is not mine, the victory is yours. This is the people's time and I am your servant."
He says he received calls from Prime Minister Perry Christie and from Governor General Dame Marguerite Pindling – who invited him to be sworn in tomorrow at 5pm.
10.50pm: In Marathon, Jerome Fitzgerald is trailing to Romauld Ferreira by 318 votes with 10 out of 13 polling divisions in.
10.40pm: With all the polling divisions returning from Centreville, Prime Minister Perry Christie appears to have lost his seat. He finished with 1,875 votes. The FNM's Reece Chipman had 1,900. Given how close that is, Centreville could see a recount.
10.30pm: Jeffrey Lloyd wins South Beach for the FNM.
10.25pm: The first seat to be called for the PLP tonight - Philip 'Brave' Davis wins Cat Island, Rum Cay and San Salvador.
http://youtu.be/ehMox28l5Ok
10.05pm: Another two seats for the FNM as Shenendon Cartwright takes St Barnabas and Desmond Bannister wins Carmichael.
9.50pm: Prime Minister Perry Christie has conceded the election and released a statement:
"I called Dr. Minnis earlier this evening to congratulate him on his party's victory. I understand as perhaps few others the challenges that await Dr. Minnis, and I wish him only success on behalf of our nation. He has my full support for a smooth transition.
"It has been an honor and a privilege to serve as the Prime Minister of this great nation. I want to express my deepest gratitude to the Bahamian people for that opportunity. To those who served alongside me, I thank them for their dedication to our shared ideals.
"May God Bless Us All, and May God Bless the Commonwealth of The Bahamas."
http://youtu.be/EjuStcGg3VA
9.30pm: FNM Deputy Leader Peter Turnquest wins East Grand Bahama.
9.20pm: Another result - Southern Shores for the FNM.
9.20pm: As the FNM celebrate what looks to be a great night at the polls, the PLP headquarters is now virtually empty.
9.10pm: FNM Deputy Leader Peter Turnquest has been speaking about tonight's events: "I am elated by the results. I am humbled and I look forward to serving for another five years and I am certainly committed to the further development of East Grand Bahama and improvements for the people. Overall, I think the margin of victory was very gratifying and humbling. I want to thank the supporters and constituents again for their trust."
9.00pm: Confirmed results for Long Island and Central And South Eleuthera:
http://youtu.be/rqPzN2Pyk1o
8.50pm: PLP Chairman Bradley Roberts says the "voice of the people is the voice of God" and added that the party humbly accepts the election results and will now have to be rebuild.
8.35pm: Yamacraw with eight of 13 Polling Divisions returning: Melanie Griffin PLP 947, Elsworth Johnson FNM 1,559, Charlis Robins DNA 215, Carol Thompson BCP 15, Kendal Lewis IND 4.
8.32pm: Golden Gates MP Shane Gibson is behind with 9 of 13 returning: Agnes Glinton BCP 25, Rudolph Dean DNA 191, Michael Foulkes FNM 1,782, Shane Gibson PLP 1,280, Sharmaine Adderley TPM 15, Anthony Rahming IND 8.
8.30pm: East Grand Bahama, with 14 of 16 returning: Elkanah Pinder DNA 182, Peter Turnquest FNM 3,221, Preston Cooper PLP 1,503.
8.25pm: Long Island has just one Polling Division left to return - but it's looking like the FNM's Adrian Gibson is heading for victory.
8.20pm: Prime Minister Perry Christie is behind in the three Centreville Polling Divisions that have returned so far.
http://youtu.be/E9p6HjsGEYE
8.10pm: Pineridge, with 5 of 13 Polling Divisions in: Michael Darville PLP 645, Frederick McAlpine FNM 765, Leslie Lightbourne DNA 36, Kendel Kowles BCP 20.
8.05pm: Early results from Prime Minister Perry Christie's constituency of Centreville, 2/12 returning: Perry Christie PLP 316, Reece Chipman FNM 392, Celi Moss DNA 21, James Darling 3, Frederick Sawyer IND 3.
Some FNM supporters are celebrating at the party's headquarters, but they have been advised to calm down for now.
http://youtu.be/T1sjgNjifTA
7.55pm: Another strong showing for the FNM so far in South Beach with 5 from 12 Polling Divisions returning: Cleola Hamilton PLP 466, Jeffrey Lloyd FNM 1049, Randy Butler DNA 99, Leyvon MIller IND 19, Claridge Williams BCP 2.
7.50pm: Three from 12 Polling Divisions have returned in Southern Shores - Kenred Dorsett PLP 544, Frankie Campbell FNM 846, Madlene Sawyer DNA 83, Marlin Newton IND 0, Livingstone Lynes Jr 0.
7.48pm: Polling Division 12 from Killarney - FNM leader Dr Hubert Minnis' constituency - Reneika Knowles PLP 107, Dr Hubert Minnis FNM 307, Arinthia Komolafe DNA 39.
7.45pm: The FNM candidate for Long Island, Adrian Gibson, is celebrating right now, saying there is "pandemonium" throughout the constituency. But, there is no official result from Long Island yet.
7.40pm: Central Grand Bahama - 2/14 Polling Divisions returning - Iram Lewis FNM 483, Julian Russell PLP 231, Jedrick Robinson 13, Donald Mortimer IND 5.
7.30pm: Central and South Eleuthera with 11/15 Polling Divisions' results: Hank Johnson (FNM) 1145, Clifford Scavella (PLP) 1100 and Hank Johnson (DNA) 19.
7.25pm: The energy is beginning to pick up in the FNM's Mackey Street headquarters as the early results come in.
7.22pm: North Abaco with 3/12 Polling Divisions' results: Darron Henfield FNM 375, Renardo Curry PLP 275, Claire Basden DNA 6, Cay Mills IND 4.
7.15pm: Mangrove Cay and South Andros with 9/12 polling divisions returning: Picewell Forbes PLP 514, Zendal Forbes FNM 456, Cyril Miller DNA 5.
7.15pm: North Andros & Berry Islands, Polling Division 5 - Perry Gomez PLP 45, Vincent Peet IND 14, Carlton Bowleg Jr FNM 46. Polling Division 7 - Perry Gomez PLP 35, Carlton Bowleg Jr FNM 31.
7.10pm: Results are coming in thick and fast - Carmichael: Polling Division 3 - O'Brien Knowles BNCP 0, Buscheme Armbrister DNA 16, Desmond Bannister FNM 190, Keith Bell PLP 82. Polling Division 6: O'Brien Knowles BNCP 2, Buscheme Armbrister DNA 30, Desmond Bannister FNM 231, Keith Bell PLP 107.
6.55pm: Three polling divisions have returned in Central and South Eleuthera - so far Hank Johnson (FNM) has 151, Clifford Scavella (PLP) has 121 and Hank Johnson (DNA) has 3.
6.30pm: Welcome to our live coverage of the 2017 general election results. We'll bring you all the results and reaction tonight as it happens. Voting is still taking place at Polling Division 11 in Elizabeth, which will close at 8.15pm, and Polling Division 4 in Seabreeze, which will close at 8pm.