7.15pm: Prime Minister Dr Hubert Minnis says "today represents a new day for the Commonwealth of the Bahamas". He pays tribute to the election system saying "our demoracy is the envy of many countries around the world."
He adds "we commit ourselves to the common good of the Commonwealth of the Bahamas".
7.10pm: Dr Hubert Minnis has been sworn in as the Prime Minister of the Bahamas in Government House.
5.40pm: Unofficial results:
Carmichael: FNM 2,965, PLP 1,584.
Fox Hill: FNM 2,192, PLP 1,978.
Golden Gates: FNM 2,373 PLP 1,816.
Golden Isles: FNM 3,371 PLP 2,057.
Pinewood: FNM 2,283 PLP 1,654.
Fox Hill: FNM 2,192
 PLP 1,978.
Freetown: FNM 2,390 PLP 1,379.
Killarney: FNM 4,163 PLP 1,087.
Nassau Village: FNM 2,554 PLP 1,602.
Cat Island: FNM 546 PLP 844.
Long Island: FNM 882 PLP 528.
South Beach: FNM 2,893 PLP 1,284.
St Barnabas: FNM 1,834 PLP 1,273.
Southern Shores: FNM 2,589 PLP 1,728.
Central and South Eleuthera: FNM 1,742 PLP 1,679.
East Grand Bahama: FNM 3,672 PLP 1,626.
Marco City: FNM 3,451 PLP 1,773.
Yamacraw: FNM 2,581 PLP 1,700.
Central Grand Bahama: FNM 3,652 PLP 1,749.
Pineridge: FNM 2,495 PLP 2,028.
West End: FNM 2,619 PLP 2,370.
Englerston: FNM 1,666 PLP 1,800.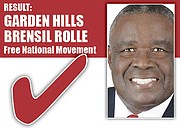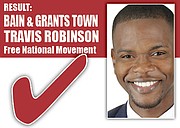 4.45pm: More official results have come in and plenty of unofficial ones. Travis Robinson of the FNM has officially won Bain & Grants Town and Brensil Rolle is the official winner of Garden Hills.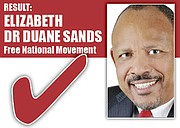 4.00pm: The FNM's Dr Duane Sands has been confirmed as the winner of the Elizabeth seat.
By KHRISNA VIRGIL
Deputy Chief Reporter
kvirgil@tribunemedia.net
AFTER leading his party to a stunning landslide victory and dealing a paralysing blow to the Progressive Liberal Party last night, incoming Prime Minister Dr Hubert Minnis declared that those who have abused positions of trust "have something to fear".
Speaking to thousands of jubilant supporters at the Q E Sports Centre last night, the Free National Movement leader also announced that he will be sworn in as the Bahamas' fourth prime minister at 5pm at Government House today.
Dr Minnis pledged that his administration will give Auditor General Terrance Bastian the resources it needs to probe how taxpayers' dollars were spent under the Christie administration. He said if there is evidence of "criminality", the new government will allow the law to take its course.
Moments after his maiden speech as the nation's next leader, Dr Minnis promised that under his watch, Bahamians will have nothing to fear from the government, pointing to victimisation, which he said is "unconstitutional" "immoral" and "wrong".
According to unofficial results, the FNM was able to pull off a stunning defeat of the PLP, securing a massive 34 of 39 constituencies.
The Parliamentary Registration Department did not release full election results last night, with the last numbers coming in from the government agency around 11pm. However from the unofficial numbers, it appeared that the PLP only captured four seats: Englerston; Cat Island and San Salvador; South Andros as well as Exuma and the Ragged Islands.
An additional seat, Fox Hill, was still being recounted up to press time. This marked the worst defeat for a governing party in recent history.
The FNM's victory came despite a rocky five years that included two challenges to Dr Minnis' leadership, continued reports of a fractured party and ultimately his removal from the post of leader of the Official Opposition in the House of Assembly.
"This was a long fought battle, but the victory is not mine - the victory is yours," Dr Minnis told thousands of FNMs packed on the carnival grounds.
"This is the people's time and I am your servant and I will listen to you and I will take your orders."
"After all, this is your time," he said.
"At 9 o'clock, the Prime Minister (Perry Christie) called me and he conceded and congratulated me and the people on their victory. He said to me that if any advice or assistance is needed, he would give it.
"I got a call from Her Excellency the Governor General (Dame Marguerite Pindling) and she congratulated me and invited me to be sworn in tomorrow at 5 o'clock as the new prime minister of the Commonwealth of the Bahamas.
"I want you to always remember this is a great victory for you. Never ever allow the politicians to be in charge again. This is your victory and you will always remain in charge. The people have spoken.
"My colleagues and I in the Free National Movement have been given the solemn responsibility to form the next government of the Bahamas. We have been given a mandate for change."
'Awesome mandate'
Dr Minnis told his supporters that he did not take his role lightly, saying his administration was given an "awesome mandate".
He said: "As we go about the business of governing, we ask for God's help: that He protect us from the sins of arrogance and greed; that He keeps us ever mindful that this new day is not about us, but about the people we have the honour to serve.
"It's the people's time. I thank all Bahamians who did their duty as citizens and voted in this election, including those who did not vote for us. It is the people who give validity and vitality to our parliamentary democracy. It is the people who give life and meaning to the words of our Constitution and our laws.
"I promise you, we promise you, that we will govern for all Bahamians: those who voted for us, those who did not vote for us, and especially those who were unable to vote. I speak of the thousands of young Bahamians who are still in school or still at home.
"I want to assure those Bahamians who supported a party other than the FNM that they will have nothing to fear from us. Our founding fathers did not believe in political victimisation and neither do we. Victimisation is unconstitutional; it is immoral; it is simply wrong.
"Bahamians have a right to vote for the party or candidate of their choice without fear of victimisation. All Bahamians deserve to be treated fairly by their government regardless of which party is in power. So we will not deny any Bahamian equal access to opportunities based on partisan politics."
"I want to state clearly, however, that those who have abused positions of trust may have something to fear. We will give the auditor general the resources and tools he needs to find out how the people's money was spent.

"If there is evidence of criminality we will let the law take its course," Dr Minnis continued.
Dr Minnis said the FNM has much work to do in order to bring order to the affairs of the Bahamian people. He added that the party would work tirelessly to chart a new course of progress and prosperity for the country.
"We have much work to do putting the financial and economic affairs of our country in order. We have much work to do to combat crime and violence. We have much work to do bringing social improvement and saving our young people who are at risk.
"We have much work to do carrying out our plans for infrastructural development in New Providence and the Family Islands. But I am ready. My colleagues are ready. And I know the Bahamian people are ready for this new day. We go now to begin the work of mounting a new government and governing in the best interest of the people," Dr Minnis said.