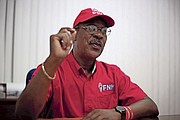 By RASHAD ROLLE
Tribune Staff Reporter
rrolle@tribunemedia.net
WHILE many braced for a close general election result, the Free National Movement's data-driven campaign strategy allowed party officials to be all but certain of victory weeks before the vote, according to party Chairman Sidney Collie.
Months of the FNM's research consistently showed that the Progressive Liberal Party was vulnerable on five main issues listed in descending order of importance: Prime Minister Perry Christie's continued leadership of the country, how value added tax (VAT) was spent, the perception that the Christie administration had few accomplishments, high crime and concerns about corruption.
Using its data and aided by the work of an American firm called KAP Strategies, the FNM tweaked its message when necessary to drive home its points.
Its campaign songs addressed the aforementioned themes and its audio interjections into rally speeches, like the popular "Fire Dem—Roll Them Out" refrain, were chosen because they reflected what Bahamians wanted.
The FNM, which began polling in January, noticed a rise in Mr Christie's negatives after he defeated Alfred Sears at the PLP convention, Mr Collie claimed.

"When Alfred Sears was defeated, people realised they were stuck with him," he said. "FNMs and PLPs were hopeful of a different outcome. When they realised he won so easily, the Bahamian people had a peak of dissatisfaction with him."
Mr Christie's negatives later "rose through the roof" amid questions earlier this year about how VAT was being used.
"That's why he started giving those explanations," Mr Collie said, "because they must've saw what we saw."
And finally, Mr Collie claimed, the former prime minister's negatives skyrocketed when he refused to respond to revelations that former Education Minister Jerome Fitzgerald solicited contracts from Baha Mar.
"Politically we were happy (Mr Christie) didn't say anything," Mr Collie said.
The questions asked of Bahamians were scientifically researched and were designed by a "famous university," Mr Collie said.

The party's polling firm typically polled hundreds of people, but the final poll had the largest sample size with a margin of error of +/- 4, he claimed.
"That's why we were so confident of victory," he said.
Underlying Mr Christie's unpopularity was the perception that he was nearly 74 and "out of fresh ideas."
The Tribune was told that 4,200 frontline workers buttressed the FNM's campaign; the consultants, advisors and vendors who worked for the party brought the total number of workers up to 6,000.
Still, party officials were concerned about the high percentage of undecided voters weeks before the election, Mr Collie said.
"Three or four weeks out from the election, the undecided voters were as high as 27 per cent," he said.
But the party's final poll conducted a week before May 10 showed undecided voters turning their way.
This meant that by last week Tuesday, a day before the election, Mr Collie was able to predict in an interview with the British Broadcasting Corporation (BBC) that the FNM would win two-to-one over the PLP, a prediction that proved close to reality.
"A political campaign in 2017 is a world of difference from the way you run a political campaign in 1968 or 1969," Mr Collie told The Tribune on Friday.
"Where the PLP made its mistake and where the FNM was on its game is our message was researched and polled. Our ads came out of what the people told us were the top priorities in our message. The structure of our political organisation, our manifesto and the selection of our team all came from polling and research.
"By the time the prime minister formed the (Constituencies) Commission, dissolved Parliament and called the election, we were already in full bloom. By the second week after he called the election we had peaked and all we had to do was keep what we were doing."
The FNM found that above anything else, Mr Christie's "negatives were very, very high," Mr Collie said.
"The bumbling of the VAT also resonated. We polled it and we found out that Bahamians were incensed about it because the prime minister promised that the VAT money would be used to bring down the debt. Now, we knew that they didn't steal the VAT money but they did not live up to their promises."
In the final several weeks of the campaign, the PLP's candidates began reminding voters of scandals involving FNM candidates, including past contract controversies surrounding newly elected Prime Minister Dr Hubert Minnis and St Anne's MP Brent Symonette.
The PLP also tried to paint other FNM candidates - namely Howard "Rickey" Mackey and Dionisio D'Aguilar - as tax dodgers.
"They tried to deflect and tried to gloss over the scandal with (Jerome) Fitzgerald and Shane Gibson and some of the things at BAMSI and some of the money that went missing by digging up so-called scandals on FNM candidates," Mr Collie said. "But (PLP chairman Bradley Roberts) did it too late even though he had documents on the thing with Ricky and brought up some obscure thing from 30 years ago with Michael Foulkes. It came too late. We were hammering the scandals and the corruption for eight months and when you think people are not listening because they are not commenting, that doesn't mean they didn't hear you and if you constantly remind them of the five key issues I told you about, the momentum would keep building."
The FNM's research, Mr Collie said, shows that his party must, after five years in office, have a strong record of performance to reference.
"We must stick to our manifesto like a laser beam so at the end of the five years we could go to the Bahamian people and say see here, examine us," he said.