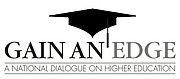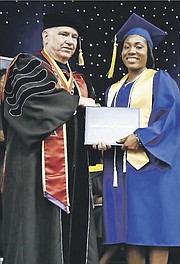 Vital lessons can be learned at The Bahamas Technical and Vocational Institute in pursuing education . . .
The Bahamas Technical and Vocational Institute (BTVI) has been the foundation of many success stories.
A few of them include owner of Sinclair's Rent-A-Tool, Sidney Sinclair; Colina Insurance Information Technology Network Administrator, Gerald Desinor; Baha Retreat's master stylist, Je'Rome Miller and owner of Rolle's Electrical, Bernard Rolle. They are among the thousands of graduates whose skills have contributed to the workforce.
During the institution's 2016 graduation exercise, the president, Dr Robert W Robertson emphasised that "BTVI is not a dumping ground for low-achieving students or those who are not college material." He underscored that the place of vocational professionals in society is crucial.
In fact, the quest to remove the stigma associated with technical and vocational education and training (TVET) is gradual, but coming along with the help of international organisations like J P Morgan. Last year, the banking giant announced its commitment of $75m to career technical education programmes.
With career and technical education being a catalyst for Science, Technology, Engineering and Math (STEM) education, one ought not to consider vocational learning as a last resort for those who have failed academically. Conversely, it is quite challenging.
Je'liece Darling, a 2016 Business Office Technology graduate, has experienced the rigours of TVET.
"The overall educational experience was just as I had expected it to be. At times, it got challenging and it was overwhelming. But, continuous hard work and dedication allowed me to be very successful," said the Associate's degree holder.
The BTVI alumna, who is presently studying towards a Bachelor's degree in Marketing at the University of The Bahamas (UB), is grateful to have passed through BTVI and lauded the institution for giving her the foundation for post-secondary education.
"Regarding the education, all of the core classes (100 levels at UB and some of the 200 levels) are the same and more than half of my credits were transferable," she said. "It is basically the same concepts being taught. Of course, further into your area of study, the courses at UB are more detailed and they become a little more challenging, but because the foundation has already been laid at BTVI, it makes it a little easier to build on."
Meanwhile, she said two of the lessons learned while at BTVI were responsibility and grabbing opportunities when presented.
"I have learnt to hold myself accountable and never be dependent on anyone when it comes to (my) studies. I have become a much more responsible and mature adult in terms of knowing exactly what my goals are and knowing the sacrifices I have to make to achieve them. I've also learnt to take full advantage of all of my resources."
The 23-year-old, who is a graduate of C R Walker High School, was chosen by BTVI Student Counsellor, Pamela McCartney, to participate in The Bahamas' Youth Parliament 2016. That same year, she also participated in the 41st Regional Commonwealth Parliamentary Association's Youth Parliament Conference in The Bahamas.
"Never in a million years would I have thought that out of the hundreds of students who attend and graduated from BTVI, I would have been chosen to represent not only BTVI, but The Bahamas," said Ms Darling, who participated in the debate on globalisation.
"The whole experience for me was surreal and I was truly honoured to have been awarded the opportunity to be a part of so many amazing young people with brilliant ideas. It honestly was the highlight of my year along with receiving my Associate's degree," she added.
As a BTVI President's List and National Technical Honour Society graduate, she described her experience at BTVI as "phenomenal".
"BTVI wasn't my first choice. I initially wanted to study abroad, but things didn't work out. However, I am glad that I chose to commence my studies at BTVI and I am a proud alumna. Most of my lectures were extremely hands on. Some of them were very strict, but very much so involved in the learning process in terms of being able to incorporate different learning styles in their lesson plans.
"The instructors honestly go over and beyond for students, making sure students have all the resources needed to do well. Don't mind the noise in the market regarding BTVI being a second-class institution. Firsthand experience is sometimes the best teacher. BTVI has laid the foundation for what I expect in terms of education," she said.
• "Gain An Edge" is a weekly collaboration of the Lyford Cay Foundations, Bahamas Technical and Vocational Institute and University of The Bahamas aimed at promoting a national dialogue on higher education. To share your thoughts, email gainanedge@tribunemedia.net.