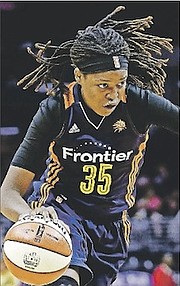 By RENALDO DORSETT
Sports Reporter
rdorsett@tribunemedia.net
THE Connecticut Sun organisation expects Jonquel Jones to have a breakout season in her sophomore campaign in the WNBA, and Jones delivered immediately with a new career high in her season debut.
Jones grabbed a career-high 20 rebounds in the Sun's 81-74 loss to the Atlanta Dream at Mohegan Sun Arena in Uncasville, Connecticut, on Saturday night.
She added eight points on 3-11 shooting from the field, two steals and two blocked shots in 27 minutes.
The Sun took a lead briefly in the fourth quarter when Morgan Tuck hit a three-pointer with 7:51 left to play. The Dream regained the lead with a 6-0 run and maintained the advantage for the remainder of the game. The Sun came within three, 77-74 with less than one minute left to play, but the Dream would hit a three-pointer to end the run.
Jones' rebound total was the most by a Sun player since Tina Charles grabbed 22 boards back in 2012.
The Dream set a WNBA record with 21 made free throws in the first half.
The Sun will be on the road next weekend when they travel to face the Indiana Fever, May 20 at Bankers Life Fieldhouse in Indianapolis, Indiana.
Ranked at No.11 in the Associated Press' WNBA preseason poll, they completed the preseason with an undefeated 3-0 record.
Jones finished her rookie campaign for the Connecticut Sun averaging 6.8 points, 3.7 rebounds and 1.1 blocked shot in just over 14 minutes per game. She shot 53 percent from the field and 33 percent from three-point range.
She received one vote in the 2016 WNBA Sixth Woman of the Year tally to finish in a 5-way tie for fifth behind winner Jantel Lavender. The Sun finished last season 14-20, 5th in Eastern Conference, just missing the postseason after a dramatic midseason turnaround.
Sun head coach and General Manager, Curt Miller told Marc Allard, of the Norwich Bulletin that Jones will take on a greater role this season.
"She is going to be able to play through mistakes. She is going to have to stay on the floor through those mistakes. She is going to have a great opportunity to really blossom on the WNBA scene in what we truly believe will be a breakout year for her," Miller said, "She has some wear on her body right now, lost some weight, so we will need to bulk her back up because she's going to give up 50, 60, 80 pounds some nights and they're going to beat on her. The difficulty when you have a post player who can score on the perimeter is that she can't fall in love with it. She has to still go and get baskets in the paint for us. She has to play with her back to the basket in the paint and be able to take the pounding. If not, she's going to get pushed to the perimeter, and if she settles, hangs out there because she can play out there, she's not going to be anywhere near as effective. She can't be a finesse big kid."
In March, Jones ended her time in the Korean Basketball League with one of her best games of the season and a championship title for her club. She posted 27 points, 25 rebounds and three blocks in an 83-72 win for Woori Bank over the Samsung Life Blue Minx to complete a three-game sweep and claim the 2017 title, the fifth consecutive for the club.
Jones was particularly dominant in the finals where she averaged 15.3 points and 23 rebounds per game. She averaged 15.8 points, 14.3 rebounds, and 2.8 blocks – all team leads - in 24 minutes per game for Woori Bank in 38 games this season
Jones told Slam Magazine that the expectations have increased for her at home in the Bahamas as well as her profile continues to increase.
"It's hard to go anywhere without people asking you for a picture and different stuff like that," she said, "I was just a regular old name and doing what I did. Now people have seen what I've accomplished, and they're proud of me and they want to be a part of it."