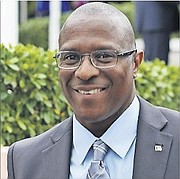 By BRENT STUBBS
Senior Sports Reporter
bstubbs@tribunemedia.net
After much speculation over who will be given the nod, Michael Pintard has been sworn in as the new Minister of Youth, Sports and Culture.
The ceremony took place yesterday at Government House where Pintard joined the remaining members of the Free National Movement Cabinet led by Prime Minister Hubert Minnis.
Pintard comes in as the Member of Parliament for Marco City, having defeated veteran basketball coach Norris Bain in the general elections last week.
Many felt that he would be best suited for the Ministry of Agriculture, considering the fact that he holds an Associate of Arts Degree in Agriculture from the College of the Bahamas (now the University of the Bahamas) and he has completed several graduate courses in agricultural economics.
But Pintard comes equipped in the role that he has been placed in. He is an accomplished playwright and humorist, teacher, motivational speaker, writer and human resource development consultant, has lectured and performed both nationally and internationally.
Many remember Pintard's work as the co-author with David Wallace of the popular plays "Election 2002: If you don't laugh you'll cry," "Election 2007: Count It Again man, I Say Count It Again" and 'Election 2012: What Just Happened?" in respect to the results of the consecutive elections.
Will there be an encore for 2017? That is yet to be seen as Pintard gets set for the work ahead of him as the minister and the mandate as outlined in the FNM's 'It's The People's Time' 2017 Manifesto.
While there are some items outlined for youth, under the sports portfolio, the following have been highlighted:
• Complete the 'Ten Year Sports Infrastructure Plan' to construct gyms and relevant athletic facilities throughout the Bahamas, thereby equalizing opportunities for excellence for athletes on all islands.
• Institute a Sports Development Foundation.
• Complete the development of the Queen Elizabeth Sports Centre in accordance with the master plan.
• Continue the advancement of a state-of-the-art National Sports Academy.
• Encourage local participation and international competitiveness in an increasing number of sporting disciplines.
He was a founding partner in Congo Town Development Limited, a Bahamian company focused on developing housing in urban areas. He was also the organizational Development Manager for Grand Bahama Airport Company, Freeport Harbour Company and the Freeport Container Port.
The son of Laura Pearline Benson and Jo0hn Samuel Pintard, is married to the former Berlice Lightbourne and they currently reside in Freeport, Grand Bahama.