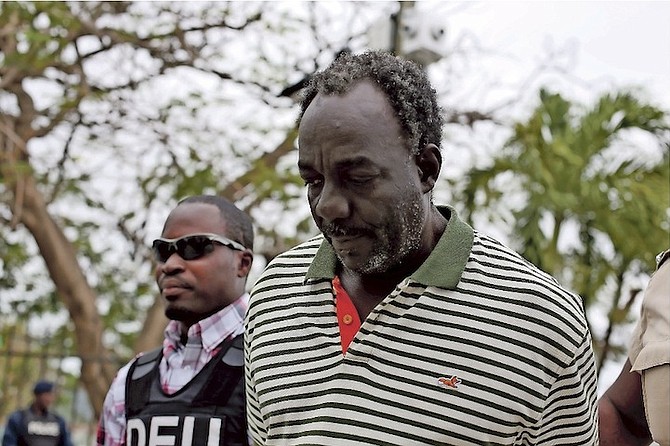 By LAMECH JOHNSON
Tribune Staff Reporter
ljohnson@tribunemedia.net
A JAMAICAN father of 10 children was sentenced to four years in prison yesterday after he admitted to trafficking more than $1.4m worth of drugs into the country.
Gothileb Patrick, 56, of Clarendon Parish, appeared before Deputy Chief Magistrate Andrew Forbes with Geoffrey
Griffin, 45, and Taze Turnquest, 42, facing four drug related charges stemming from a recent seizure in waters off Cay Lobos.
It is alleged that the trio conspired to possess and import dangerous drugs and were found with 1,452 pounds of marijuana between April and May 15.
While Griffin and Turnquest pleaded not guilty to conspiracy to possess dangerous drugs with intent to supply, conspiracy to import dangerous drugs, importation of dangerous drugs and possession of dangerous drugs with intent to supply, Patrick admitted guilt on all four charges.
According to a summary of the facts read by prosecutor Supt Ercell Dorsett, the Royal Bahamas Defence Force was on routine patrol in the Ragged Island area near Cay Lobos when they observed a stationary 28-foot blue and white go-fast vessel floating in the water.
Upon officers observing three individuals on board, they boarded the vessel and informed the occupants of their suspicions that there was dangerous drugs on board.
Officers found some 38 bags of marijuana resulting in the arrest of the three occupants.
The boat was towed to the RBDF base where they met officers from the Drug Enforcement Unit.
"Patrick admitted to collecting drugs from Jamaica and was returning to the Bahamas but (they) were intercepted by the Defence Force," Supt Dorsett noted.
Patrick also told DEU officers that he was supposed to be paid $2,000 for trafficking the drugs, the police prosecutor added.
Deputy Chief Magistrate Forbes asked Patrick if he accepted the facts.
"Yes, sir," the 56-year-old said.
His lawyer, Moses Bain, made a plea in mitigation on his behalf, noting that Patrick "desired not to waste the court's time."
"He has no antecedents here in the Bahamas and it is my instructions he has no antecedents in Jamaica," the lawyer added.
"He has 10 kids he provides for the youngest being six years old," Mr Bain said.
"My client is remorseful for what he's done and humbly asks you to be mindful of his plight in Jamaica. I'm instructed the reason he took this chance was to assist in what ways he could for his kids," Mr Bain said.
Patrick was formally convicted of the four offences.
The deputy chief magistrate acknowledged Patrick's early plea of guilt, lack of antecedents, and cooperation with law enforcement but expressed concern at the volume of the drugs that were trafficked into the country which he said also was partly responsible for the Bahamas' high violent crime levels.
"He's 56 and ought to have known better," the judge said.
Patrick was sentenced to four years at the Department of Correctional Services while Griffin and Turnquest were remanded to prison to await trial on October 4.
Griffin is defended by Bain while Turnquest is defended by Jomo Campbell.