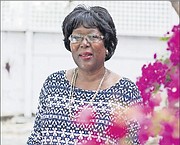 By CARA HUNT
cbrennen@tribunemedia.net
Marilyn Major is one of the country's few cytotechnologists – a laboratory professional who examines cells for early detection of cancer.
"I didn't know what cytology was when I was I headed to college. What drew me to cytology is that it was one of those careers in the field of allied health that mostly is anatomy and physiology. So when a cytotechnologist visited our school to tell us about the career, I was drawn to it," she told Tribune Woman.
Mrs Major got her nursing degree before applying to schools which offered the cytology programme. However, finding a school that would accept her ended up becoming quite a challenge.
"This was back in 1972 during a time when America had a lot of issues with race. I was accepted into a school in Chattanooga until I went for the interview and they saw that I was black, and then would not let me into the programme," she said.
"The second school I applied to was in Dayton, Ohio. Again I was accepted until I went there for the interview and they saw that I was black. That was when I got discouraged and decided that I would come home and forget about it."
Instead, she got a job at the Princess Margaret Hospital laboratory. 
"At the PMH lab I was first introduced to the practical side of cytology and my love for it came back," said Mrs Major.
"I like to say that my steps were ordered. I believe that God knew that I would not be able to handle the racist environments of the first two schools and that's why I was not able to attend them."
However, an opportunity later presented itself at the University of Miami, which also boasted a cytology programme. Wary of the process after having been burned twice, Mrs Major came up with a plan for the admission process.
"I actually had an African-American friend who lived in Florida apply to prove that blacks could get in. When she was able to get in, she declined the acceptance and then they accepted me. And that is how I got in; I was only the black student enrolled."
The cytology programme she enrolled in was a partnership between the University of Miami and Jackson Memorial Hospital.
After receiving her board certifications (American Society of Clinical Pathologists and the International Academy of Cytology), Mrs Major returned to Nassau and launched what would become a 30-year career in cytology.
The majority of her work entails looking at cells on slides taken from endocervical, cervical and vaginal pap smears and working closely with a pathologist who signs off on all abnormal samples.
Eventually, she started her own lab, Neoplastic Cytology Laboratory, after several independent doctors expressed an interest in keeping the work in the country.
"I was really encouraged by my mother, Mayrona Seymour, to open my own lab and fill a need in the Bahamas. My friend and colleague Dr George Sherman also encouraged me and signed up to be my first client. Now, doctors wouldn't have to send their work out of the country. In a way, it was like national service," she said.
The location where Mrs Major set up her lab was also important.
"I grew up in Centreville and, again with the help of my parents, turned our old homestead into my place of business. It was important for me to stay connected with the area that holds so many happy memories of my childhood," she said.
Today, she continues to help doctors determine if patients are cancer free.
"We really want to encourage early detection, because after you have a diagnosis of cancer sometimes it is too late. But if you can make an early determination, even before it begins to develop, that can save lives," she said.
An important part of Mrs Major's work included joining the Cancer Society of the Bahamas and making significant contributions as a part of that organisation. There, she was behind the National Pap Smear Screening Programme, which is still successful until this day.
"Being a part of the Cancer Society was an important part of my career and it was exciting for me. It was good to be around people who were all passionate about cancer education and care, and who really wanted to make an impact in the community," she said.
Mrs Major is now retired from PMH, but she continues to work at Neoplastic. She is a wife and the mother of six children. She loves gardening and spends almost all of her leisure time in her garden.