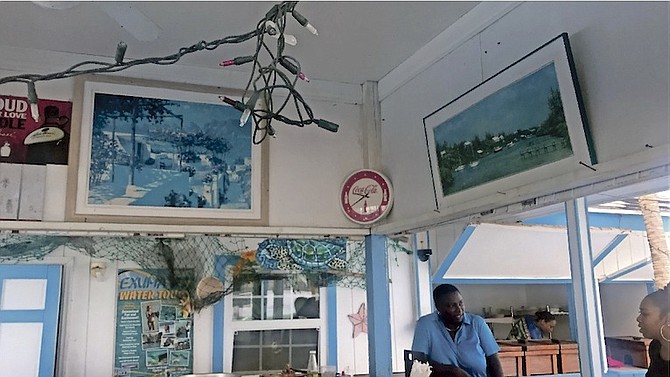 By AVA TURNQUEST
Tribune Chief Reporter
aturnquest@tribunemedia.net
THE words "Fyre Festival" have left an acrid, bitter taste in the mouths of Exuma residents, many of whom are still unpaid nearly a month after the event descended into chaos.
Capitalising on desperation for jobs and sustained economic activity, islanders were promised an event that would attract multitudes of upscale visitors for years to come, but in reality got front-row seats to a raging dumpster fire, The Tribune was told.
For residents and vendors, the question remains: why did the government agree to stage the event at this time? And as the ash settles, and reports of a US federal investigation surface, scepticism mounts that the debacle will be swept under the rug of a new government.
Meanwhile US organisers Billy McFarland, rapper Ja Rule and Fyre Media Inc are facing multi-million dollar lawsuits filed in the wake of the disaster that unfolded on Exuma late last month when inadequate planning and facilities led performers to bow out and organisers to cancel the show once billed as "the cultural experience of the decade".
The event widely promoted on social media by models and celebrities targeted well-heeled 'Millennials' with ticket packages ranging from $1,200 to over $100,000 and promising five-star dining and luxury accommodations. Headline performers included rockers Blink-182, hip-hop act Migos and the electronic music trio Major Lazer.
But instead of putting Exuma on the map as the next big destination music experience, Fyre Festival succeeded only in sparking outrage and recriminations and a social media blacklash with the hastag #fyrefraud.
In response to reports that a catering company run by two of its lecturers recruited students for the event but never paid them, The University of The Bahamas said yesterday that it has launched an internal investigation.
Meanwhile in Exuma recently, The Tribune interviewed a host of residents, vendors, and former consultants to get a fuller picture.
Although millions of dollars of equipment have been seized by the Department of Customs for non-payment, physical items like bedding and tents were subject to a free-for-all on Friday, May 12.
A Ministry of Tourism official was seen standing at the gates at one point, according to several residents; however, it is unclear which government agency sanctioned the giveaway that saw hundreds descend upon the festival grounds and haul away dozens of queen-sized beds and box springs.
Harrowing
The move has set off another wave of discontent among unpaid workers, who believe they should have been given first pick for their troubles.
In Exuma, businesses that mandated upfront wireless transactions, and those that did not budge on requirements for hefty down payments, seem to have fared well or at least have come out with limited losses.
However, for those that were browbeaten by organisers to accept contracts on good faith and a foothold as an established vendor for the fabled luxury annual event have emerged as a harrowing, yet textbook case of bad business.
"I wasn't working for this one, I was working on our future goals with Fyre," said MaryAnn Rolle, proprietor of Exuma Point Resort, "that was my purpose."
Mrs Rolle claims to be owed $136,000, and acknowledged that she and her husband, Elvis, agreed to work on the festival in the face of warnings from suspicious business owners that were wary of how the event was being managed.
"I'm in the business world," she said, "and I understand how good business should work, so I was in agreement. You're thinking it's real, we liaison in good faith. In the Bahamas, sometimes we tend to get careless about business and we lean more to good faith, that's our culture.
"They invested a lot of money, and that was what I was looking at, the investment that went forward. It was no way they were gonna have you do all this work and not pay you and it's not going to come off well."
Shock
With American rapper Ja Rule a common sight riding up and down the streets in the weeks leading up to the event shoring up confidence, it was a true culture shock for shafted vendors and residents accustomed to servicing millionaire second home-owners and island-hopping celebrities that always pay their debts.
And perhaps more than a little ironic that the culture of hospitality and good faith that has been a major selling point in tourism promotion of the country's Family Islands were exploited.
Mr and Mrs Rolle were contracted to provide catering support and lodging for the festival, and initially they were paid on a transactional basis by credit card. However, after the card was repeatedly declined, they were promised a lump sum wire payment.
She said after a final meeting on the Wednesday night before the festival, it appeared that everything was nailed down and she was looking forward to getting back to regular business.
"I'm at the airport on Thursday morning when I got the call," Mrs Rolle said. "They said the grounds aren't ready, we would like to bring the guests to your place for a few hours until the site is ready. We had a good relationship, we did so much for them so we couldn't say no to that.
"But we didn't prepare the grounds to receive 500 or 600 persons, so they said we'll come down and help you clean because I'm still at the airport."
Mrs Rolle said she rushed back to the resort immediately only to find it overrun by hundreds of hungry tourists demanding breakfast.
"But I was able to get the breakfast out to them," she said with an unmistakable sense of pride. "I had lots of fresh fruit, breakfast bagels, everything you'd want or expect for a continental breakfast.
"(The guests) were quite happy, they danced, they drank until the sun set, and when the sun set and they had to get into that bus and leave to go to the festival site, that's when it becomes sour. During the day they were happy here as long as I kept cooking, breakfast turned into lunch and the girls just cooked and cooked and cooked. We had a lot of food, it's just that we weren't prepared because I would have had a couple grills out on the beach."
Damp tents
From Exuma Point, festivalgoers were shuttled to a main Fyre site that looked more like a scene from the X-Files than an island-style Coachella. After drinking in the sun all day, guests were offloaded to an unlit campsite where they found damp tents erected over barren, rocky ground. No lush shrubbery, just packed limestone and sparse bushes.
The dates for the fledgling event, over two weekends beginning on April 27, clashed with the Exuma's 63rd Family Island regatta (April 25 to 29).
It also conflicted with the country's fledgling Junkanoo Carnival festival, now in its third year, set to take place in the capital the following week with preliminary events kicking off on the island of Grand Bahama on the same day.
At the tiny Great Exuma airport, major air carriers like American Airlines and Air Canada bring in as many as 150 tourists per trip.
On any given Sunday, lines wrap around the facility much like the pictures that rocked social media after the festival tanked completely.
Airport workers and security personnel worked 24-hour shifts on Thursday evening into Friday morning the weekend of the event, The Tribune was told.
It was an unprecedented development due to the raucous nature of festivalgoers, who had been drinking and partying all day and were now corralled with nowhere to go as lodging on the island was fully booked.
The plane chartered to take guests back slept on the runway on the night of April 27, as workers wrangled with drunk and drugged tourists, some of whom hid their passports because they didn't want to leave and repeatedly attempted to go onto the tarmac in a bid to catch a quick smoke without losing their spot behind security clearance.
The Tribune has reached out to several government agencies, but received no response up to press time.
• For more on this story, see Tribune Business