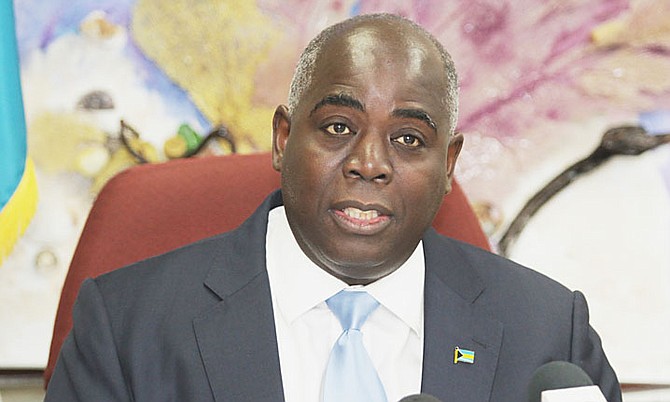 By KHRISNA VIRGIL
Deputy Chief Reporter
kvirgil@tribunemedia.net
WHILE insisting he has no concerns over anything that may come to light concerning Urban Renewal, Official Opposition Leader Philip "Brave" Davis threatened to "make a story" over the way the government does business, should the Progressive Liberal Party (PLP) be impugned unfairly.
Last week, Minister of State for Grand Bahama Kwasi Thompson expressed grave concerns regarding Urban Renewal in Grand Bahama and suspended certain operations pending further review. He went on to describe the operations of the initiative as "unusual".
However, speaking to reporters yesterday following the swearing in of four Official Opposition senators at Government House, Mr Davis, whose portfolio included Urban Renewal under the previous administration, went on to suggest that he was confident that the newly-elected government will find nothing untoward during its review of the country's finances.
"I have no concern about anything that they could find," Mr Davis told reporters.
"We all have ways of doing things and if they want to make a story about the way we might have done something, we equally can make a story about how they want to do things."
"But I think they will find that there is nothing untoward that went on in the finances of the country and I think there is a subtle admission of that already. But until such time as they come back and say what it is that they find objectionable or whatever, I'll await their findings."
During a press conference last Wednesday at the Office of the Prime Minister in Grand Bahama, Mr Thompson said: "Last night, I began being briefed on the status of the ministry. Needless to say, there are some matters of great concern. In particular, I am reviewing what I can only describe at this time as unusual operations of Urban Renewal in Grand Bahama. I have requested that certain operations be suspended until a further review can be performed," he said.
While he did not want to disclose any further details at the time, he said he will have more to say once the review process is complete.
The Urban Renewal office in Grand Bahama was headed by Michelle Reckley under the former administration. Mrs Reckley - the PLP's campaign manager in Grand Bahama - was appointed as assistant director of Urban Renewal by former Prime Minister Perry Christie in 2012 when the party came to power. Tirzah Cartwright, who had previously headed the Grand Bahama Urban Renewal office, was removed from the post.
When asked whether Mrs Reckley was still at the helm, Mr Thompson replied: "There are decisions that are being made with respect to the way forward for Urban Renewal. At present I have assumed responsibility for the operations of Urban Renewal in Grand Bahama."
He said that a final determination with respect to Urban Renewal will be made by Lanisha Rolle, who is the substantive minister responsible for the programme.
According to a statement from Bahamas Information Services (BIS) last week, Urban Renewal is one among many arms of government where a forensic audit will be conducted.